005. Nachtreim
March 2018 | Boston-based Nachtreim feels like one of the city's best-kept secrets, but it probably won't stay that way for long. A music nerd and stalwart scene supporter through and through, she's as comfortable behind the decks playing unrelenting, peak time techno as she is serenading an afters or a backyard party.
About the mix:
Before getting into dance music, I was listening to other electronic music styles that eventually led to a natural, linear progression into a sort of intense love affair with all types of techno starting around 2014. My relationship with house and disco was different; I didn't have an innate appreciation for them at the beginning, but, at one point, something started to click and my liking for those genres grew exponentially.
When I was asked to make a mix for Spontaneous Affinity, I thought to make that the working theme. To me, "spontaneous affinity" in the context of music refers to styles or sounds that captivated my attention in an instant.
Up until very recently, I had largely disregarded UK bass music and its derivatives, but once I paid attention and discovered the right entrance—namely the Bristol sound that fuses elements of dubstep, DnB, and techno—I found 2-step-types of rhythms more appealing than the traditional 4/4 beat found in techno and house. At some point before that, I also instantly fell for what I have come to designate as a "lo-fi / leftfield" house sound, electro, and other incorporations of breakbeat into sets, such as Josey Rebelle's inspiring set at Sustain Release last fall.
This mix highlights some of those styles and elements, as well as artists I've had on heavy rotation the past few months, while still firmly maintaining my techno roots and adding a couple of strange cuts within.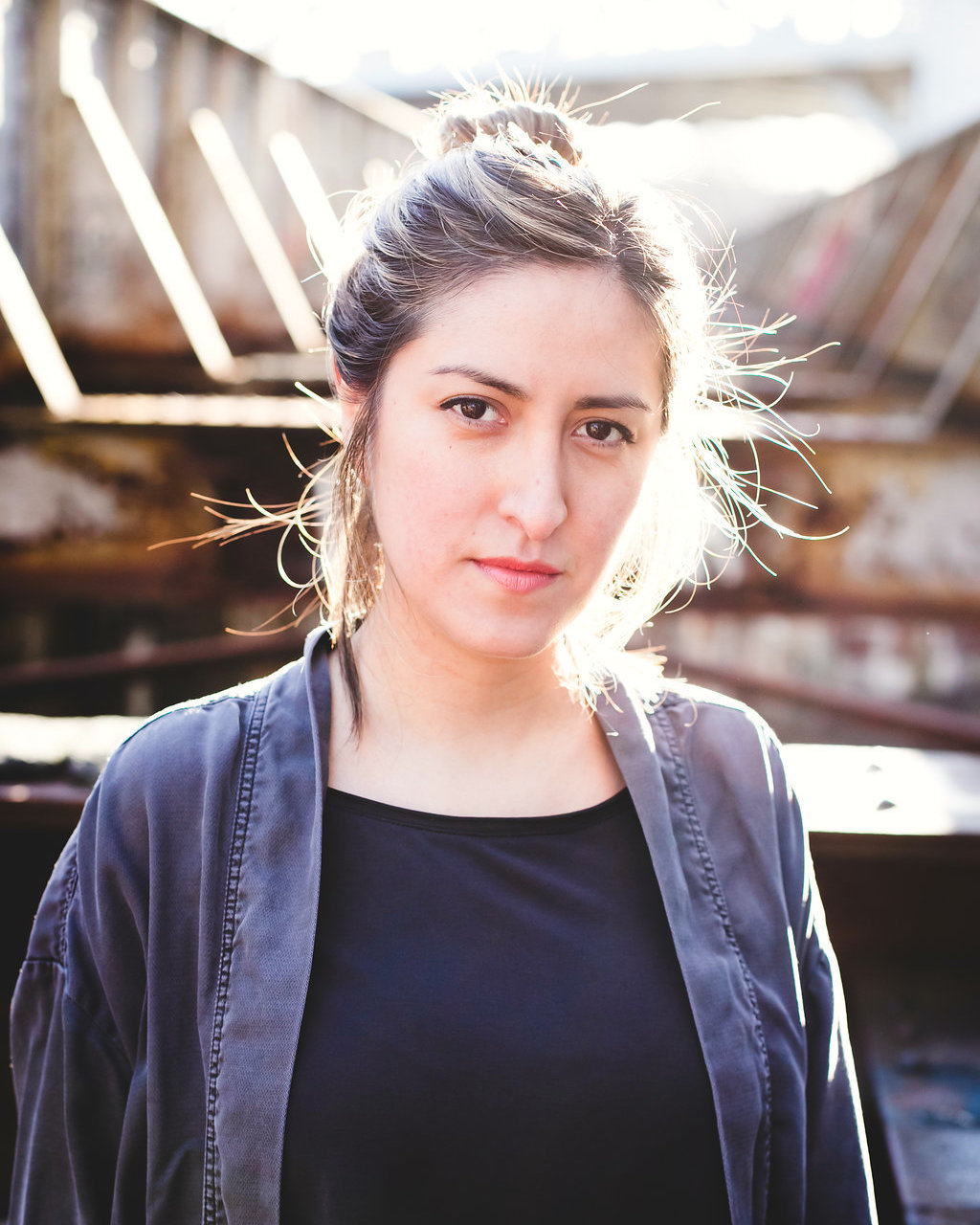 Photo: Anna Duong Van Orman
Where did you grow up? How did that shape your sound or the way you relate with music?
I was born in Mexico City and lived there until I was about 10 years old, surrounded by my aunts, uncles, and cousins. This meant that from a very early age, I was exposed to a variety of music, mostly rock, punk, new wave, and pop rock. Growing up in the US, I moved a lot, and though I picked up on some of the music being listened to in the various regions, I mostly carried over tastes I had developed from listening to the radio and film soundtracks.
Since high school and college, I remember having tastes in music different than those of the majority of my peers, and it was when I moved to Boston for work / grad school and started attending house parties that I became more confident in taking charge of the music with my little iPod and for making music recommendations and mix tapes. So, you could say that living in Boston provided an environment for me to share the music I loved so much with people who welcomed it. It's the first time I've been part of a scene or had a niche, and that was very novel and cool for me.
What was the first dance music experience that really stuck with you?
The first techno / house music festival I went to was Movement 2015 in Detroit. One of the after-parties I attended was the Bunker showcase, where Romans and AtomTM & Tobias played live sets. I recall being immensely consumed by the music for the duration to the point where it became a very physical sensation instead of just a mental state of enjoyment. In that moment, I thought I had reached a level of appreciation for dance music that could not be surpassed (gasp!) and honestly thought that's what people who choose to take E to enhance their own experiences must feel like. Sounds a bit cliché, but that was a confirmation that it truly was all about the music for me, and that I was going to be part of this scene for a long time.
To what extent is your music tied to community, and to what extent is it about individual expression? Can those things intersect?
I don't get to play a lot because of grad school, so when I do, it's definitely about expressing myself, though I don't believe that's inhibitive to tying music to the community. A simple way for me to think about this is how I go about making mixes versus playing sets. Making a mix in my bedroom is all about self-expression. Do I feel like playing completely freeform, or do I have a theme in mind that I want to explore?
In contrast, while playing out is also a form of self-expression, there's feedback from dancers, and that energy can steer me in different directions. I think it's crucial to develop a sense for how the audience is receiving the music.
Can you share any tracks or mixes created by someone else that really bring you back to a place or are somehow connected to a specific time or locale?
Every spring, there's this event called Porchfest in Somerville, and it's basically bands playing on porches around town. One of my fondest memories early on after meeting a lot of my friends in the dance scene in 2015 was at my buddy Napoleon's backyard, where DJs, instead of bands, would play. >My friend Evan played Moodymann's "Joy Pt. II," and for a moment, while sitting on the grass, it seemed like everything was completely still, except for the ethereal, floating hooks in that perfect song.
A similar experience was when my friend Sal played Claudja Barry's "Love for the Sake of Love" in Detroit. They were both such beautiful moments and really opened my heart to disco, funk, and house, as well as to the importance of community.
Just a few days ago, someone played "Timeless" by Goldie during a group discussion about jungle and DnB. I just sat there absolutely blown-away and wondered why I hadn't had the drive to dig into that territory before. But that's okay. Electronic music is so vast and covers a range of tastes, moods, and feelings that we experience or seek out at different times in our lives. This is as much about searching as it is about finding without searching; it's about evolution and constantly learning. It's going in with an idea of what we believe we need and being knocked for a loop and converted in an unexpected moment.
Share a video or photo that you recorded that takes you back to a moment, and tell us a bit about that moment. (If you're a great photographer that's great, but blurry, weird footage is just as exciting and tells a story too!)
Video: Scott Greenwald
This is a 360° clip from autumn 2016 when Alyce, aka Lychee (Spontaneous Affinity), and I went b2b at Cake Factory, one of the very first underground parties I played in Boston.

Everyone else on the lineup doing live sets was a dream, and literally almost every single one of my favorite Boston DJs was there dancing (Dee Diggs, DJ Reparations, Beyun, Echinacea, to name a few). I was glowing for months after, haha! I even made a mix out of some of the tracks I played that night since we didn't record live.
Share a track you've always wanted to include in a mix, what you love about it, and why you've never managed to include it.
"The Arumbaya Fetish" was recorded by Hypnobeat in the mid 80s and released by Dark Entries and Serendip Lab a few months ago. It's such a great track - I love how all the various sounds play together and almost against each other at times in the middle of the track. I wanted to include it in this mix but didn't manage to work it into what I had going.
Tracklist:
Charlotte Bendiks - Afterhours
Bambounou - Brim
Piezo - Rash
Tapirus - Role One Myself
Mella Dee - Reach Out
Marco Bernardi - Diffused Partitions
Steve Poindexter - Work That Mutha Fucker (Gettoblaster & Robert Armani Remix)
DJ Haus - Needin' U (Capracara Remix)
Society of Silence - La Mouche
Simo Cell - How Do U Turn This On
Akkord - 3dOS
Bintus - Reflections on Brown
Vronsky - Untitled01#
Isabella - Penchant Disenchant
Loft - Funemployed
Arctor - Selfish Lover
Fleck E.S.C - Tremors
DJ Shark - Space Beach
Lena Willikens - Nilpferd
Follow Nachtreim:
Published March 2018.
♫