034. woofer
April 2021 | Currently based in Boston with roots in DC, woofer is one of the organizers (alongside Adam Unknown and Bricklayer) behind Only Friends, an intimate underground queer party. As a remedy to the isolation of COVID-19, he continued building community through frequent stream happy hours with guests from across the musical spectrum. As a DJ, woofer's sets jump effortlessly between ethereal dub, hammering club, groovy house, and gritty bass. His sets at times feel reminiscent of the heyday of bass-heavy genres like dubstep, with a fresh energy and queer twist.
About the mix:
I originally recorded this mix for the Spontaneous Affinity x Currents event in October 2020. I was going through a lot of personal stress at the time, and I knew I wanted the mix to reflect or react to how I felt.
I initially thought about going super dark and murky, but when I sat down and started pulling tracks, I kept thinking about one of our parties from 2019, where you (Alyce), Mike Swells, and Jamie O' Sullivan were all surprise guests. It was one of those special moments. I tried to tap into my memories from that night and my dreams of the first parties post-COVID.
I recorded this in my bedroom, on a Pioneer DDJ-SB controller.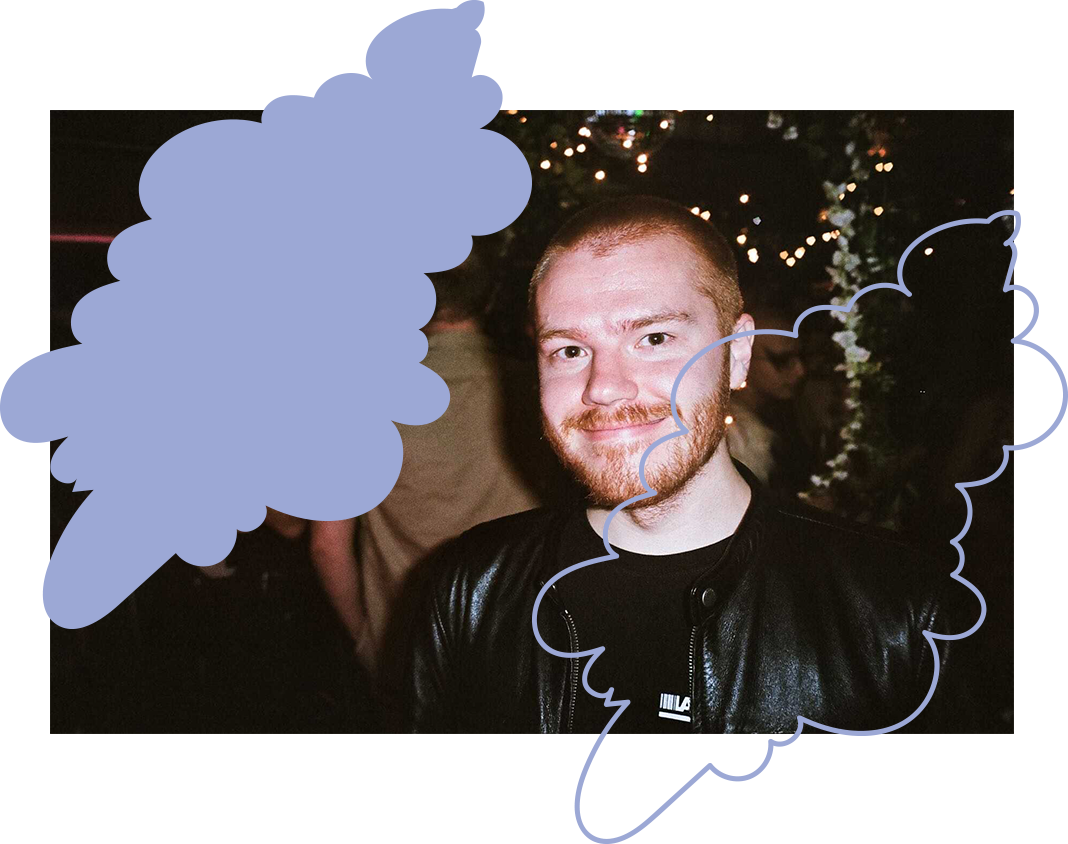 What is the place you call "home" now? How do you ensure that you're both drawing inspiration and contributing there?
I moved to the Boston area about a year and a half ago. A friend connected me with Adam (Adam Unknown) and Bren (Bricklayer), two DJs/designers/promoters/all-around-creatives who live in Jamaica Plain.
On my first weekend in town, they took me to a house party where I met many of the people involved in the local electronic music scene. Adam and Bren had been active in the community for a number of years, throwing parties and holding residencies at local clubs. We quickly became close friends, and the three of us began throwing parties together a few months after that.
Boston can be a very buttoned-down city. The local economy is heavily reliant on private universities, consulting firms, law firms, biotech and pharma companies – not exactly what people associate with underground music. The government very much caters to the wealthy, usually white people who work in these industries, and doesn't seem to care very much about supporting art outside of a few "elite" institutions. Living in a city that can be hostile to communities like ours can make people more committed to cultivating those communities and spaces. They take on even more importance when contrasted with our surroundings.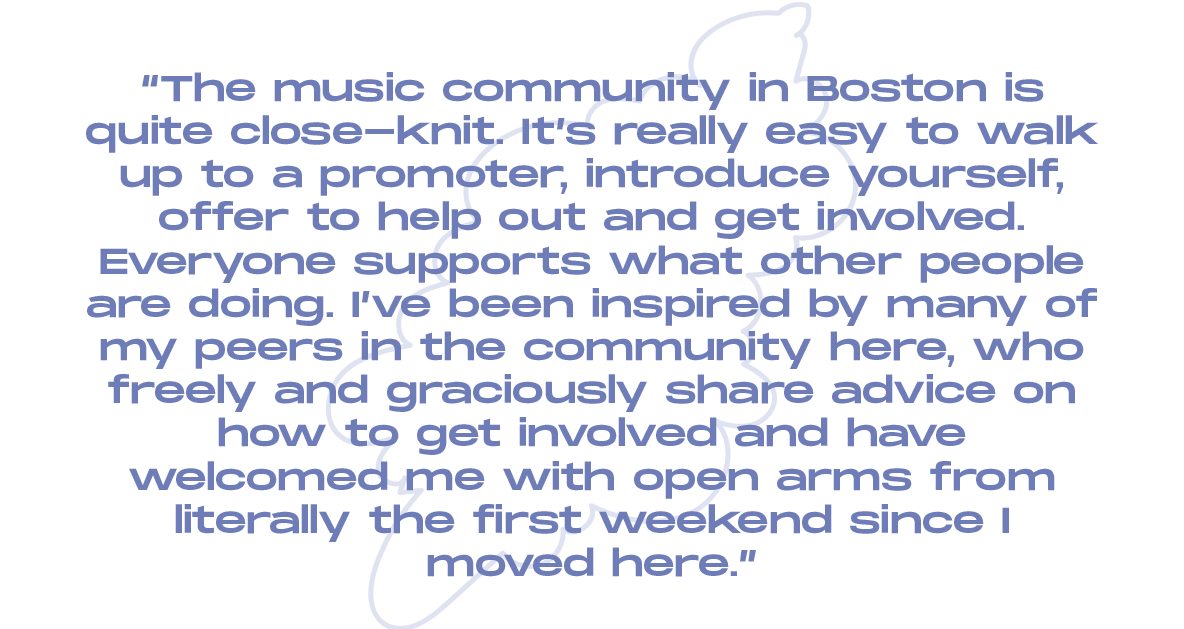 The music community in Boston is quite close-knit. It's really easy to walk up to a promoter, introduce yourself, offer to help out and get involved. Everyone supports what other people are doing. I've been inspired by many of my peers in the community here, who freely and graciously share advice on how to get involved and have welcomed me with open arms from literally the first weekend since I moved here.
I think one of the upsides of being in a smaller music community is that you have space to grow as a promoter or performer without some of the competitiveness and expectations should you start out in a city like New York. The downside is that talented people can be slept on, but if you know, you know : )
Do you have any thoughts on the present struggles of DIY collectives and spaces and how these spaces can continue to exist?
It sucks! Cities try to promote a veneer of artistry but are absent when it comes to creating the conditions where artists can survive.
Unfortunately, I'm not very optimistic about where things are going. I think there are two paths for DIY collectives: you can hunt hard and find a venue open to working with you and then do everything you can to keep that relationship strong, or throw illegal events, keep things super quiet, move from location to location and hope for the best. We've always gone the legal route and have been lucky to work with a few venues here which either understand what we're trying to do and support it or tolerate us as long as we earn them money.
In the wake of COVID, I expect things to get worse for communities like ours. While the overwhelming majority of promoters here and elsewhere have either stopped events or strictly adhered to the legal guidelines surrounding them, raves will be scapegoats for the spread of COVID well into next year. Cities will use this as an opportunity to run venues and artists out of town who they've never liked in the first place.
I would encourage collectives and venues in both small and large cities to talk with each other, organize, and figure out the best approach for engaging with your city. There may be a sympathetic ear somewhere.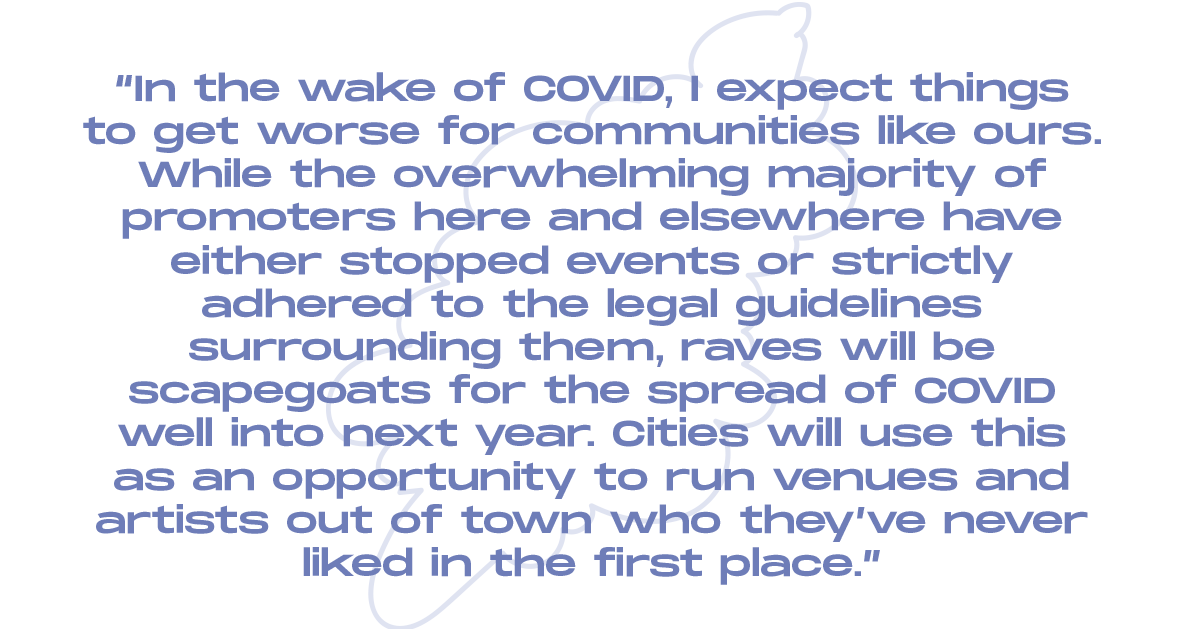 How does online communication and social media play into your music/performance practice? Can these tools be used for community building?
I think I'm more of a booster of social media than many of my peers, although I share many of their concerns. I've made a surprising number of good friendships through people I've met on Twitter, Instagram, Discord, etc, and discovered a ton of great producers and talented DJs there. I personally would have felt even more isolated than I do now without the ability to communicate online, both with close friends and new ones.
But it's easy for me to say this as someone who is not dependent on DJing or music to pay my bills. I have the luxury to duck in and out when it suits me. I don't have to maintain an identifiable, neat "brand" so that I can be marketed to listeners, agents and promoters. I don't have to post content regularly to keep a "fanbase" engaged and business interested.
I think it's important to be a critical user of all of these tools — to take advantage of the things they offer while limiting the amount of harm they do to you as an individual and our community as a whole.
Can you share any tracks or mixes created by someone else that really bring you back to a place or are somehow connected to a specific time or locale?
It's probably not going to get me any underground cred, but this Boiler Room set from Ben UFO was really important to me. I didn't start going to raves or clubs until late 2013, when I lived in Amsterdam for a year. Watching this recording was like a window into a different world. I still feel the same excitement watching and listening to it now. Those early experiences are so pure and powerful.
Share a video or photo that you recorded that takes you back to a moment, and tell us a bit about that moment.
This is a picture of me, Adam and Bren from OF, and you, when you played our party! It's probably not a thrilling photo aesthetically, but it gives me a lot of warm fuzzies. I love getting lost in my head listening to music but sharing it with other people is so important to me. I can't wait to dance and laugh and zone out and cry and hug my friends again.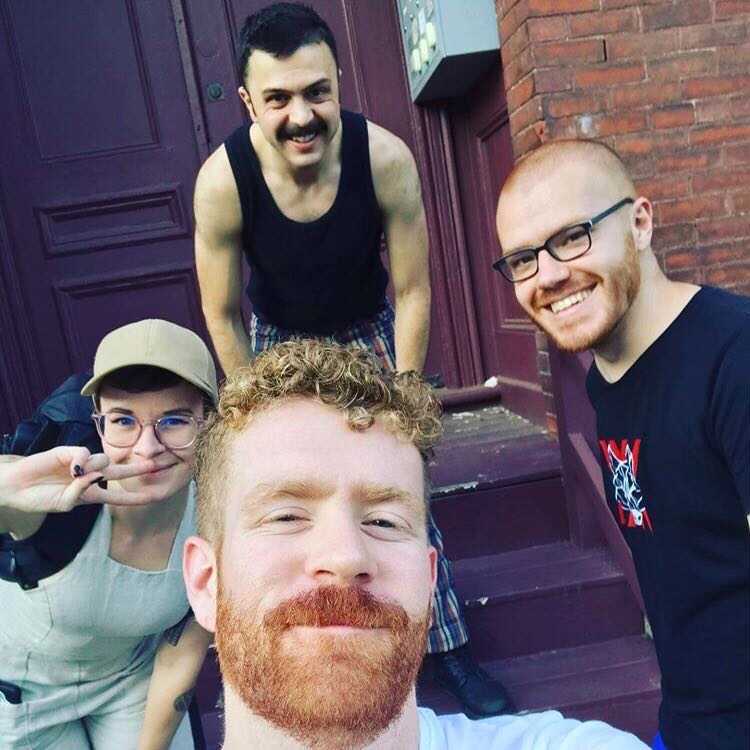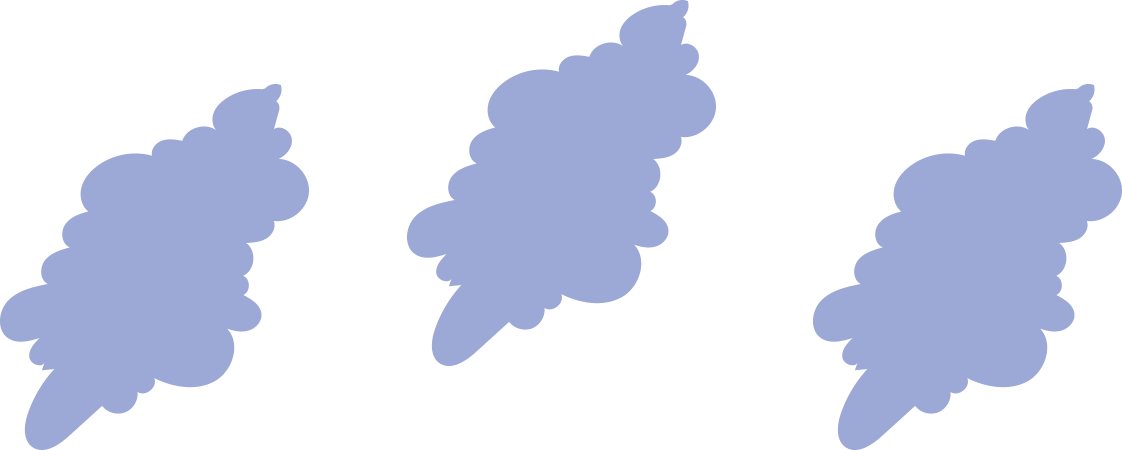 woofer's fee for this mix was donated to Trans Resistance MA, an organization empowering trans people of color in Massachusetts.
Tracklist:
hoodie - justin
nikki nair - salt
bftt - (in)finite scroll
e-saggila - shd
bruce - steals
m.e.s.h. - diana triplex
tessela - butchwax
osamu kimoto - telegraph hill
pearson sound x clara! - mi cuerpo
karizma - darqness
sam binga & marcus visionary - doubles
leonce - lowkey (leonce funky remix)
phase - r-mash (o/v/r mix)
dj lag - drumming
vissacoor - ii
soso tharpa - the royal scam
sam binga - now do you
protect-u - time to technique (alternate mix)
lone - hyper seconds
anz - stepper
skream - midnight request line (scottie b edit)
neil landstrumm - sniff and destroy
kush jones - tekno negro
hagan - waves
strange attractor - gyroscope
al wootton - ender
ZULI - trigger finger
quavius - life is sweet
bftt - lokt
hi5ghost - breathe
Follow woofer:
Published April 2021.
♫