036. Sheepshead
June 2021 | Sheepshead is a DJ and the mind behind the Newtype Rhythms mix series on Inverted Audio, which doubles as a party series at Jupiter Disco and other NYC venues. He's also one of the curators of Unsound Festival, occurring annually in Krakow, Poland as well as organizing one-off events in other cities worldwide. A versatile DJ, his mix for us covers all the bases: from dreamy dub chords to downright rude bass.
About the mix:
The mix was recorded at home on my Pioneer XDJ-RX; it was made during a period of meandering energies - as I had just gotten my first shot of the COVID-19 vaccine and anxiously awaiting the slow-but-steady incline towards more of my friends, family and community getting access to it as well.
The coalescence of tracks came together through periods of anxiety, but ultimately I wanted the mix to represent a cautious re-emergence towards the collective consciousness looking forward to the future of losing our communal shit on a dancefloor.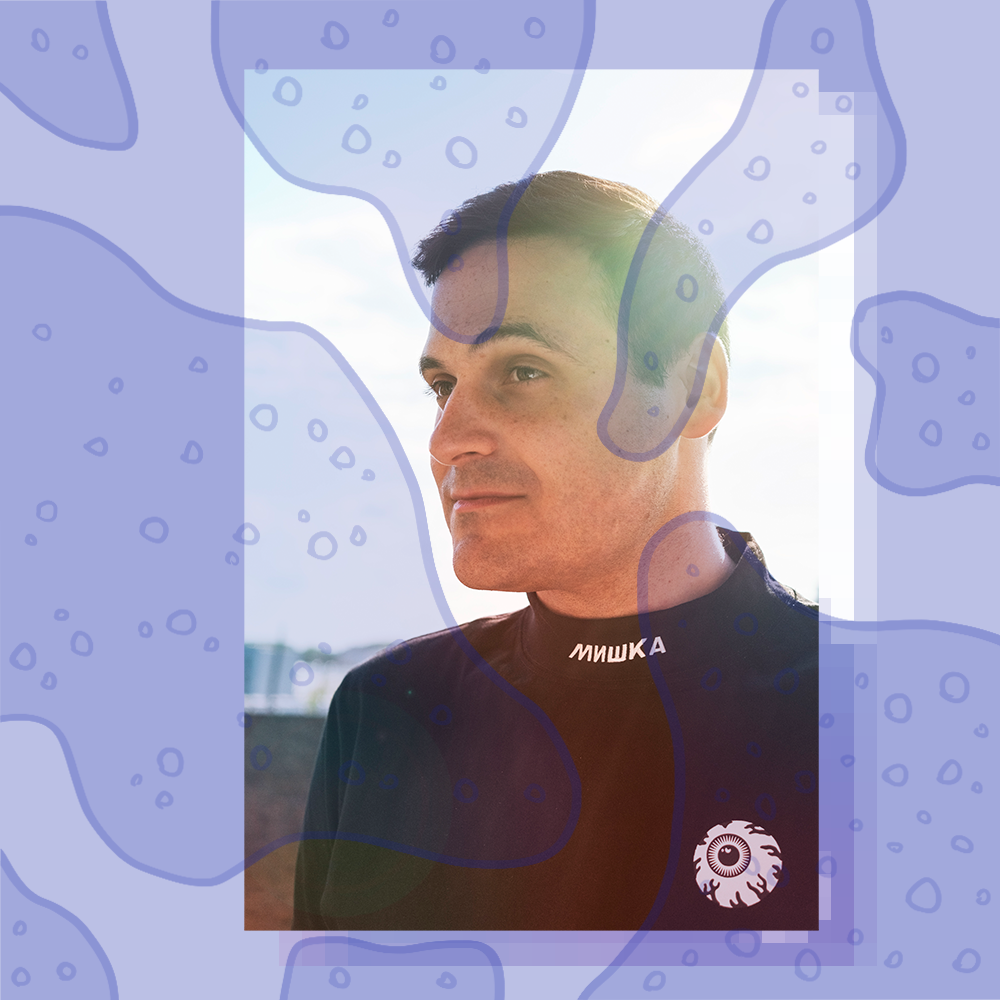 Where did you grow up? How did that shape your sound or the way you relate with music?
I grew up as my namesake states, in Sheepshead Bay, essentially the southern tip of Brooklyn. There's not really much that it did to shape my musical experience; other than make me realize with absolute certainty what type of musical setting to avoid with urgency.
It imbued me with a sense of humor about the grandeur that comes with the title of being a "DJ" - because the definition of that occupation is so narrow-minded in that community. You're either playing local family functions or you're playing a Russian hookah lounge, and you're essentially playing the same music. Sadly, I was not of the age to jump into the halcyon days of the Groove Record Shop on Avenue U - but it was nice to know that over the last couple of decades this part of Brooklyn did stamp its mark in the golden-era of raving, courtesy of Frankie Bones and Adam X.
Outside my locality, my musical tastes developed by learning piano from a young age, attending a performing arts high school in midtown Manhattan and seeking out new musical experiences every time I could; when you're around a place like LaGuardia High School, you inexorably become a sponge to whatever's going around you - and between the cacophonous klaxons of thousands of students yelling over each other while being fiercely proud of their talents [whether it be art, dance, instrumental or vocal music] - you become attuned to the music that soundtracked their experiences for years.
With a student body that stretched from all the NYC boroughs as well as the tri-state area, you couldn't help but be swallowed into the wave of new, unique experiences from all forms of expression that went on over there.
What was the first dance music experience that really stuck with you?
The first one that truly hit me like a ton of bricks was Dub War on September 18, 2009 - with a legendary lineup of Pinch and Mary Anne Hobbs; after diving into the world of dubstep midway through college, it was my first time entering a club space that was fitted for that specific sonic experience - and it was truly mesmerizing. I stayed almost the entire night and experienced low-end madness that sticks to my bones to this very day.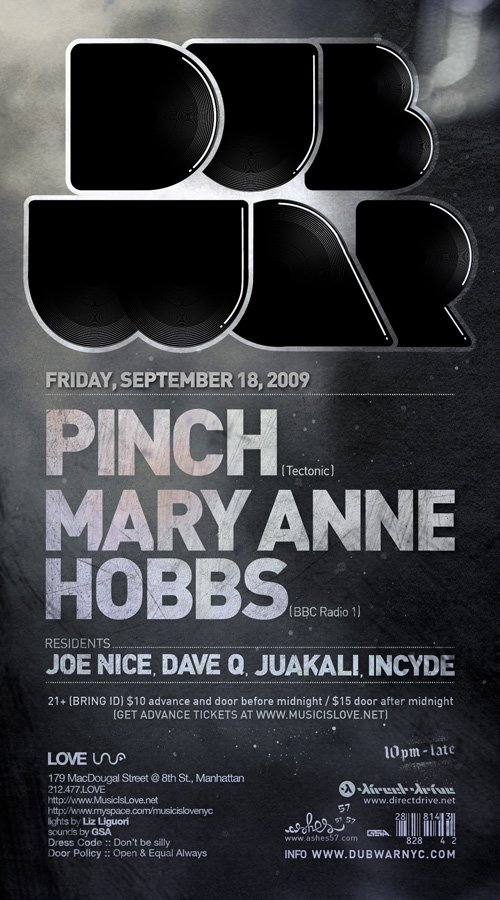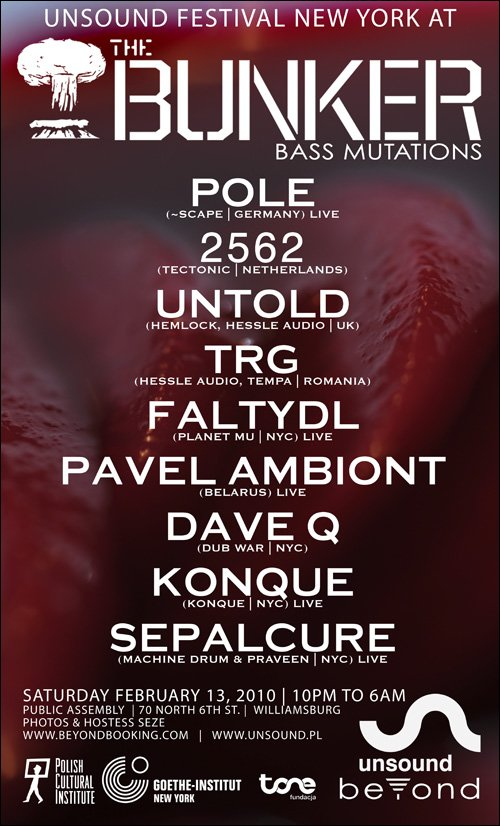 Additionally, attending The Bunker for Unsound Festival's Bass Mutations in 2010 night was eye-opening; as the melding of the worlds of dub, techno and bass music in general attracted a unique milieu of bass-heads, techno purists and sonic thrill-seekers that meshed so beautifully in a shared acknowledgement of which direction club spaces would develop towards. The highlights that I can remember fondly are Pole's mammoth mix of meditative dub and pertinent beats, Untold's sprawling set of future Hemlock Recordings releases that made the crowd shriek and Cosmin TRG's beautiful mix of techno and dubstep, weaving sonic tribes together effortlessly.
Finally, Omar S at Sunday Best in Gowanus; an absolutely beautiful amalgamation of momentous energy, excellent selections and a surprise thunderstorm that huddled everyone together on the dancefloor for dear life. Risking getting electrocuted for Omar S? That's a fucking vibe if I've ever heard of one.
Have you ever traveled specifically to attend a music event?
I have traveled to Unsound Festival in Krakow, Poland and have attended five times in the past decade. As one of the curators of the festival, I feel truly grateful to be part of a one-of-a-kind experience with a reputation that speaks for itself; always ahead of the curve in terms of representation, thematics, tone - the festival acts as a week-long utopia for the electronic music community internationally. I do not need to sell the festival as every year it sells itself; and I look forward to trying to get over there for this year - as it seems like it will proceed in a stripped-down fashion due to current circumstances worldwide.
Can you tell us about something you've discovered about yourself through a dancefloor, whether in a single moment or over an extended period of time?
Depending on the night, I can actually stay totally engaged when everything is right musically. There have been times at places like Good Room, Jupiter Disco, Love and Mister Sunday/Sunday Best where I spent my whole time stone-cold sober just absorbing everything that was coming out of those speakers, energized and enthralled by what was happening on, off and around the dancefloor.
Everything clicks into place and you realize you've become part of an experience that only lasted a few hours physically, but last for a lifetime emotionally. If the night is right, I feel like I've experienced euphoria and a therapy session all at once - let it all out with no regrets.
Can you share any tracks or mixes created by someone else that really bring you back to a place or are somehow connected to a specific time or locale?
Literally any damn time I heard Addison Groove's "Footcrab" in 2010 - specifically during Dub War or at The Bunker - the room always shrieked during its ever-so-memorable intro, and then when THAT bass dropped - it was an immeasurable feeling of excitement that I still get goosebumps thinking back on. "Footcrab" on an excellent sound system is truly life-changing.
Share a track you've always wanted to include in a mix, what you love about it, and why you've never managed to include it.
Seal, "Kiss From A Rose" - there's really nowhere I can play this unless I can belt it out at karaoke. I dream of closing out a set with this beautiful banger from the Batman Forever soundtrack.
Tracklist:
Parris - My Beautiful Fantasy
Deadbeat - Stekker Forever! (feat. Maarten Vos)
Otik - Escapade
Forest Drive West - Para
Low End Activist - 19STR8BK
Lil Silva - No Hooks Rmx
Despina - Vitamin Party
DJ Q - It's You (Octo Octa's Slammin With U Mix)
Raynor - Round Off
Imogen & Ben Pest - Gramalkin
Ma Sha Ru - Fabricated Mummies
SHD - Drop
Vex'd - Titan Rain
DJG - Apophenia
Azu Tilwane - Izen Zaren (Laksa Remix)
Dream Sequence - Do You Still Think About It?
Walton - Rewind Riddim
Sully - Blue
AQXDM - The Good Old Days Are Tomorrow
Follow Sheepshead:
Published June 2021.
♫