045. Adam 2
July 2022 | Currently based in Vancouver, BC, Adam 2 is a DJ, producer, organizer, and perhaps above all, a devotee of the dancefloor. They are the kind of person who's likely to have a meet-cute story with a surprising number of your friends from everywhere in the world (we met over a popsicle in the front row of No Way Back once upon a time). They bring the same spirit of community and giving they bring to the dancefloor to their engagement with the music community, most recently through their label PPRZ Records with DJ Hockey and their Afrofuturism is NOW mix series.

Adam 2's fee for this mix was donated to AFRORACK to provide children and young adults of color access to modular synthesizers and sound design tools.
About the mix:
So for mixes usually, I'll find a few songs which have a common narrative/story. Then with that narrative in mind, I'll think about what the start and the end of the story sound like and do I have songs which I can use for the start and the end. I'll usually then split the mix into 2-3 parts (3 parts for a recorded mix, 2 parts for a live performance) and each part will have the same shared theme but different energy levels.
For this one, I had a few electro tracks which weren't really based on phrases, but were long and evolving, so I could mix them as textures kinda like how I would mix techno. There is a mix of electro/bass/techno throughout, however I purposely tried to avoid songs with 4x4 kick patterns.
In terms of a narrative I envisioned a soundtrack to a science fiction movie, recounting a story of a journey gone wrong, and elements known (science) vs. elements unknown (religion/ritual). It is always interesting to reflect on when a mix was recorded and how it reflects that period of time; for me it reflects a period of Winter, an ongoing pandemic and a bleak view of the future. I wouldn't be able to record the same mix now because I am in such a different place emotionally and musically compared to a few months ago.
It was honestly so fascinating while writing the interview for this mix series to realize I'd come full circle and I was playing electro again but in a new way, after discovering it years ago and leaving it behind after getting so tired of it.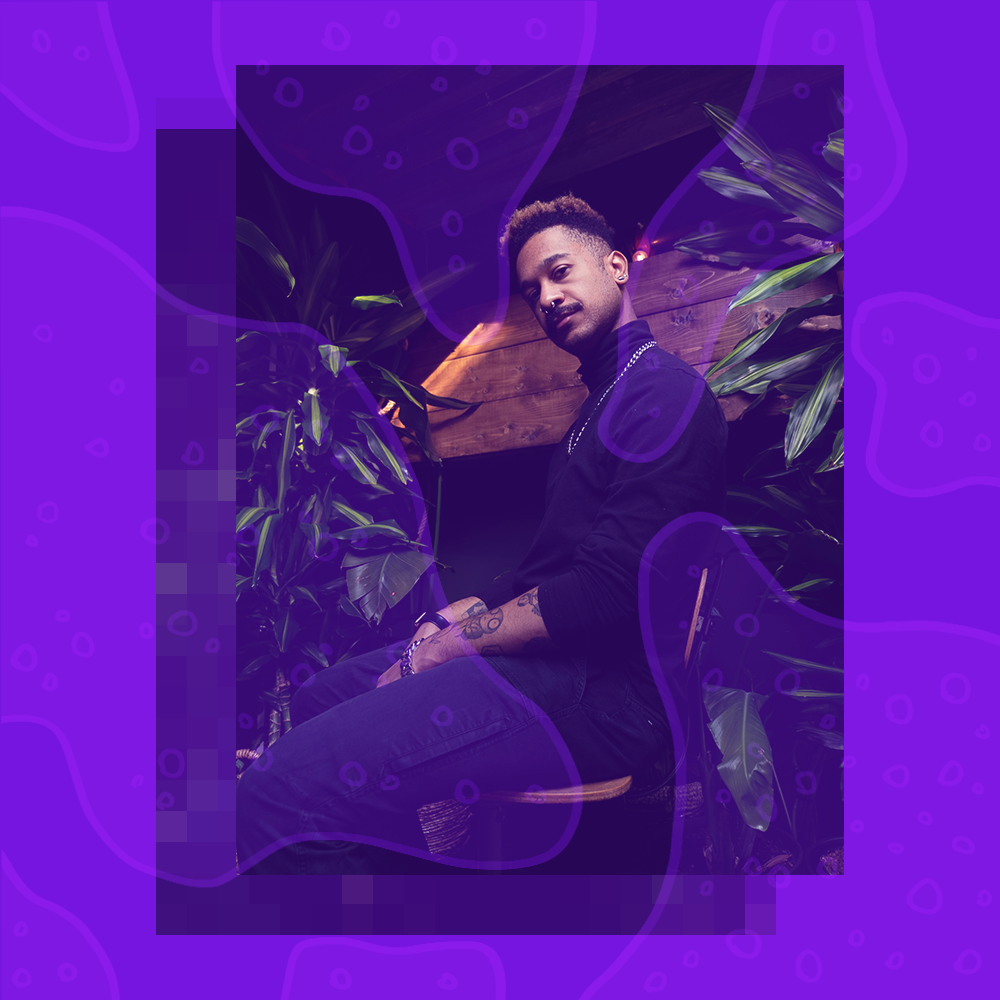 Where did you grow up? How did that shape your sound or the way you relate with music?
I grew up in Birmingham, England in a very conservative religious community of Jehovah's Witnesses. My first exposure to music, like lots of other people, was pop music, later moving into the obligatory emo phase and eventually settling into a love for classic rock and heavy metal. I don't think I realised at the time, but my love for rock/metal was probably a subconscious rebellion against Christian values. Despite being part of a mostly black community, I had zero interest in black arts and culture at the time; my only knowledge of black arts and culture at the time was conservative Christians and mainstream rap and hip-hop.
It was only after being introduced to Drexciya and visiting Detroit many years later I realised there was so much amazing music and art of black origin which I could get excited about; it was really a life changing discovery. So to answer the question, growing up believing there wasn't black music I could connect with probably increased the impact of being surprised by amazing black music later in life.
What is the place you call "home" now? How do you ensure that you're both drawing inspiration and contributing there?
So home right now is so called 'Vancouver' Canada; I have been living here since 2016. While the underground music community is much smaller than larger cities, I really enjoy how close knit everyone is. Also it means a lot of the time you'll get lots of different genres of music at the same shows/venues, whereas in larger cities they are much more segregated. This has definitely affected the music I play; my tastes change comically fast and often.
In terms of contribution, recently I have felt a shift from wanting to perform to wanting to curate; I have been finding it far more fulfilling to create lineups for performances or releases to showcase amazing artists which aren't super well known. I recently started PPRZ Records with DJ Hockey to have a 'techno' label with a lineup representing more underrepresented minorities which I have really enjoyed. And at the start of the pandemic I started Afrofuturism is NOW as a response to my frustration at not being able to find black people for event lineups.
In terms of drawing inspiration, I try to keep up to date with music releases and mixes from local artists and I try to attend parties which aren't my "regular" hangouts; for me it is important to recognize the restrictions/limits we put on ourselves from discovering new music, i.e. only going to the same venue or listening to the same genres/local artists. I recently went to a more "mainstream" party fully expecting to hate the music, but instead I was blown away by maybe the best tech-house/minimal set I have ever seen; this was honestly such an eye-opening event for me because I had written off tech-house as trash years ago, a limit I had placed on myself from discovering new music.
Have you ever traveled specifically to attend a music event? Why do you seek out those experiences?
So most of my personal vacations have been to attend music events. My first exposure to electronic dance music was at Snowbombing in Austria, a kind of ski in the day, party at night week-long event. It was there I was exposed to dubstep, drum and bass, grime and ecstasy… and suddenly nightlife made sense to me. Getting the chance to meet so many new random people who were so filled with love and affection, it was so far from my experiences within church.
After that I started exclusively travelling to music events on vacations; from Glastonbury and Bestival in the UK to Bmylake in Hungary and Berlin for long weekends.
When I moved to Canada, my travels to music events included Detroit, New York (for Sustain-Release) and San Fransisco-ish (for Gays Hate Techno). I also travelled a few times to Seattle for the infamous High + Tight parties.
I personally wouldn't be able to perform the way I do without travelling. Every city has its own "sound" and travelling really has given me so much inspiration and ideas to integrate into my own artistry. Only experiencing live music in your city is a limit on what music you can experience.
How do mind-altering substances (of any sort) play into your personal experiences with dance music? Or alternately, what are your feelings on how they impact the community or industry?
My personal view is that the full positive nature of underground dance music experiences wouldn't exist without the responsible use of mind-altering substances, while also acknowledging many instances of people being/feeling unsafe are directly related to mind-altering substances.
They are responsible for so many new connections with humans, for musical inspiration, for that physical energy required for a long weekend of partying; my three biggest artist developments (Drexciya, Afrofuturism is NOW, and playing the harp) have all come from various psychedelic journeys.
But we have to make sure people feel safe to be able to experience these benefits, so that is why harm reduction, substance education, community responsibility and accountability are so important.
Can you share any tracks or mixes created by someone else that really bring you back to a place or are somehow connected to a specific time or locale?
So one of my most vivid memories was from No Way Back in 2018. It was the first time I'd attended and I literally had never heard music played like that ever in my life; it totally changed how I related to music. But one moment which stood out; the party was still going past sunrise, and everyone was dancing outside in the sun while Derek Plaslaiko was doing his thing. And then this one song played (which I discovered 12 months later) was "Sonic Rendezvous" by Derek Plasklaiko & BMG. It was playing for so long (it's a 10 minute song) and it's so minimal and hypnotic, everyone was entranced; I didn't realise music could sound like this. Just the same 5 notes played for 10 minutes straight with small textural changes. Whenever I hear this song I am instantly transported back to that moment.
Share a track you've always wanted to include in a mix or set, what you love about it, and why you've never managed to include it.
So I am such a big fan of the Scandinavian techno scene; Abdulla Rashim, Evigt Mörker, Northern Electronics, etc. And one of my favourites is Korridor; I just adore their use of weird kick patterns, evolving textural changes, hypnotic sounds. One of my favourites by them is "Oort"; it's 8:35 of incredible static sounds. Just so many grooves coming out of noise and filters and delays. I have wanted to include it in a mix for so long, but I haven't been able to find a situation to mix it in where it doesn't interrupt the flow of what is happening. There is also no real anchor percussion i.e. hi hats or a regular snare/clap, making it even more challenging.
Tracklist
Amorce - 3000 years
Monochrome - Enter into darkness
Korridor - Vacuum Decay
Raime - This Foundry (Regis Version)
Icore - Sigil
Toki Fuko - Vaal
Daniel Avery - Diminuendo (Patrick Russell Remix)
Plant43 - Mono Sky Monolith
Doltz - Tsubame
Pris - Dodeca (Blawan Remix)
Psyk - Organic
Donor - Identity revealed (Patrick Russell Remix)
Electric Rescue & Friends (Green & Blue (RROSE Remix)
Dino Sabatini - Modulation B
Mike Parker - Vanadis
Fase Bipolar - Deeply Broken (Paleman Remix)
Kastil & I Real - Skandha
Matter - Curvature (Orphx Remix)
Talker - (Gold) Standard
VSK - Kernel Panic
Kamikaze Space Programme - Dust
Follow Adam 2:
Published July 2022.
♫