022. ilind
November 2019 | Denver's ilind is the mind behind Abstract without Abstraction, a mix series &quo;dedicated to deepening listeners relationships to time, liberation, joy, and resistance within the teeming entanglements of contemporary music.&quo; The series' genre-defying ethos and attention to detail constantly pushes artists to bring the same qualities to their contributions, and ilind's sets, too, are full of surprises, unabashedly drawing from a deep and varied catalogue of influences while still respecting the moment, and consistently invoking a sense of queer psychedelia.
About the mix:
First of all, thank you so much for inviting me to contribute to this wonderful project. I've really deeply admired everything about Spontaneous Affinity since I first discovered it, so it's a real honor to be able to be involved in this way. I generally take a very long time to put together mixes, punctuated by frenetic periods of activity and inspiration. This was no different.
I decided to answer the interview questions you provided before starting to explore the shape of the mix, and it came out colored by a really nonlinear sense of nostalgia; weaving together recent tracks by people that have been incredibly inspiring to me, bookended by older music that I have been listening to for a long time that I wanted to finally pay tribute to (namely jazz and Clicks & Cuts-era microhouse).
That said, I practiced a handful of times over a course of a few weeks, feeling really uncomfortable with the playlist and making little changes to it, until I finally rushed home to Denver from a trip to Phoenix, AZ — moving my flight up 5 hours to avoid landing in the middle of a snowstorm — just to record it straight through with no edits on my little Pioneer XDJ-RX. The mix has some really rough transitions in it (!) but a stream of emotional peaks that made it completely rewarding for me and interested in sharing it.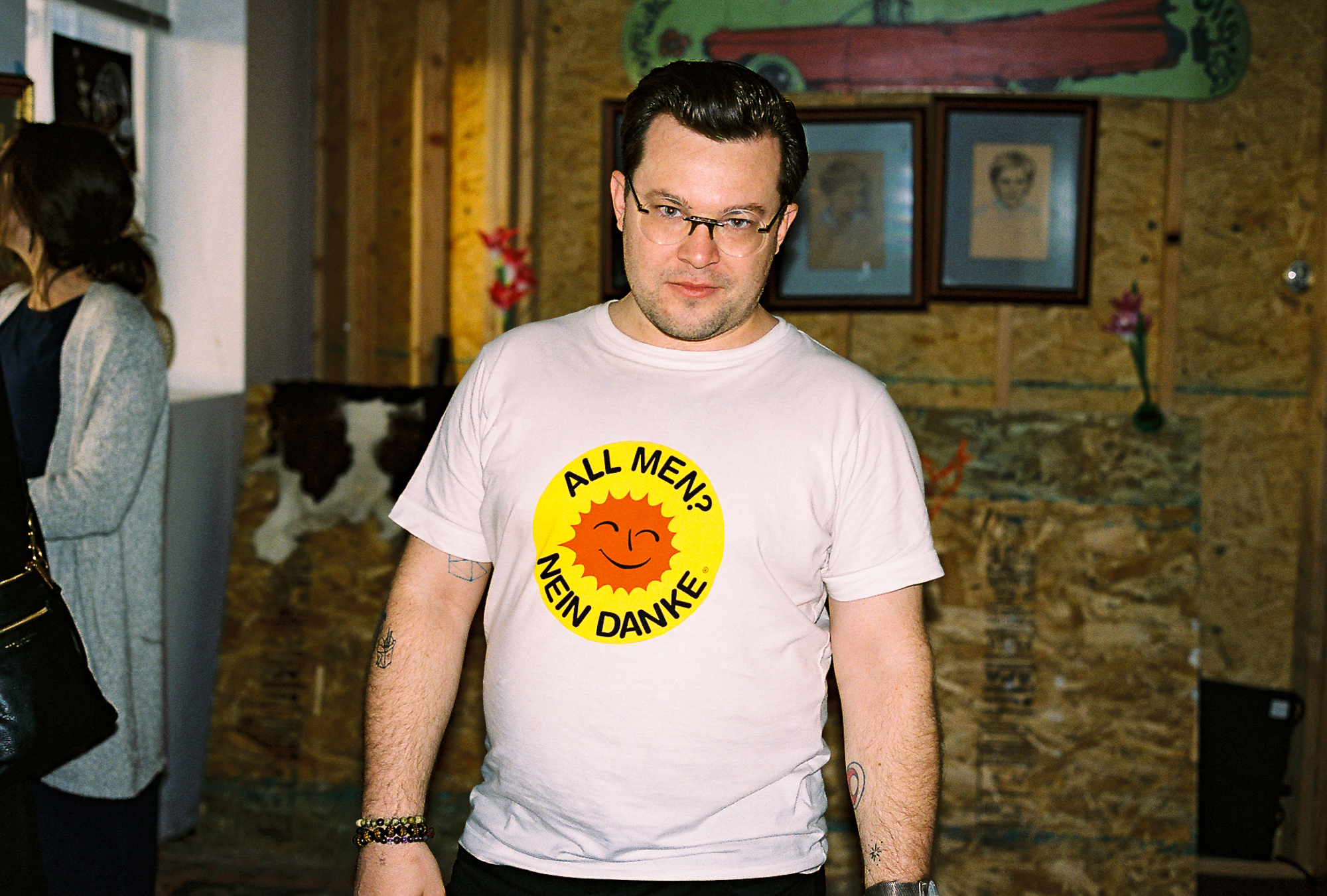 Where did you grow up? How did that shape your sound or the way you relate with music?
I grew up in a suburb of Washington, DC, in the first and largest of the controversial experimental New Deal 'Greenbelt Towns' whose planning was overseen by Eleanor Roosevelt in the late 1930's, and then — a few years later — on the University of Maryland campus.
Looking back, sound and place are really tightly knotted; really inextricably linked, even as the details get a bit difficult to suss out. What I do know is that within a very short period of time — as I was coming of age in the late nineties — a huge amount of relatively location-specific sonic information flooded my adolescent brain. Somehow, I think of my current sound as rooted in the things I learned from jazz (particularly the post-Coltrane continuum that was playing at local venues in the city), punk (Dischord Records lingering influence was still felt in the city's SXE and hardcore scenes), and the Color Field painters, who had a strong presence in DC. I was going to all kinds of shows and museums, constantly.
At that time, I had dropped out of highschool and was working in a record store, which became, like all good record stores (and even bad ones), the central nervous system firing simultaneous synapses connected to a set of really important sounds: the city's rich Ethiopian music scene, Go-go, noise (thanks to the programming at WMUC and zeromoon [whose duo "-1348-" in a sense introduced me to DJing -- playing turntables using amplified butcher knives as the needles]), Baltimore's utopian improvisational music scene, metal from Richmond, VA, more jazz, the Smithsonian's legacy of sound recording, and-- finally-- the first string of dance music that really interested me: local drum & bass, Baltimore Club and (a few years later) Dave Nada's first experiments in what would become known as Moombahton.
As one of my favorite DJs has said, 'DJing is the most eloquent response to information overload'. The inertia of all these influences make me search out sounds that are hormonal, relational, immediate, and ecstatic.
Music was something that could be made by anyone, using whatever was available; it was something that friends made together. It existed in little communities, infoshops, distros; and there was A LOT of it, good and bad. I should add that both of my parents are visual artists, so for me music was also a tool that I used to individuate (while still being able to feed my creativity). All of this was happening while I was also trying to understand two things: my nascent, queer sexuality, and my attraction to altered states of consciousness, which, looking back on it, lent a particular flavor to it all.
It was the non-stop saturation of these forces that became my teacher and set me on the path of a rather voracious appetite for listening. All of this is to say that in my sound I try to balance depth of listening (to history, specific people, and ancestrality) with a heady sense of bricolage that is partly the by-product of growing up in the first generation to come online. As one of my favorite DJs has said, 'DJing is the most eloquent response to information overload'. The inertia of all these influences make me search out sounds that are hormonal, relational, immediate, and ecstatic.
Do you have any thoughts on the present struggles of DIY collectives and spaces and how these spaces can continue to exist?
This is a fraught, tender topic for me right now. I should mention that I was being exposed to most of all the music I just mentioned above in a string of DIY spaces: the Dirtfarm, Rat Ward, Tarantula Hill, WHY U, Sangha, 611 Florida Avenue; proper names amidst a countless sea of others. I left the DC area at around 18 and, years later, ended up where I am now, in Denver, Colorado.
When I first moved to Denver I lived briefly in an absolutely wonderful DIY space known as Rhinoceropolis that has been at the crux of my experience in this town. DIY spaces are by nature on-going and volatile labors of love and community-building. How radically free communities can operate without being commodified or cannibalized is the subject of writing by people far smarter than me, but, from my perspective, if a DIY space is really flourishing in this country it's not in spite of, but because of, all of the crises that are plaguing us.
DIY spaces can be many things, including responses to crises in affordable housing, responses to crises in violence targeting our most vulnerable QTPOC family members, responses to crises in a lack of access to psychological aid for the sufferers of trauma, responses to crises in a lack of psychedelic education. In my dream, those inhabiting these spaces are striving to be more intersectional and more restorative with every passing year. People would stop charging 20 (or even 10) dollars for shows, we'd build a library in every space, and stay vigilant about dismantling the privilege, whiteness, and masculinity that can so easily fester when left unchecked in arts & music scenes. All of these things need to be addressed at the same time, from every angle at once, with active engagement from older generations. That's ideal. At the same time, there's an inherent tension in trying to chart a map of these spaces, proscribing certain behaviors or ways of organizing, because my definition of freedom includes the freedom to fuck up. Sometimes irreversibly.
How we care for radical freedom when extremely poisonous drugs are being used & abused, when our youngest are (many for the first time) developing their own senses of personal ethics, when abusers are holding gate-keeping positions of social power, or when people we love are accidentally overdosing or committing suicide is the devestating tension that rips my heart open and urges me to continue to find my role in the DIY.
How do mind-altering substances (of any sort) play into your personal experiences with dance music? Or alternately, what are your feelings on how they impact the community or industry?
Hahaha. The "altered states of consciousness" referenced above? They have been unavoidably bound up with my journey into music. In fact, they play a very deep, personal role in where I'm at today. They're both communal and intensely private. They're exhilarating and extremely sacred, and need to be treated as if they possess a great threat. Currently, I'm looking for opportunities to get trained in, or help start, a queer Zendō, influenced by some very difficult experiences I had early in my life with psychedelic medicine. (Zendō is the Japanese term for a meditation hall, but in the psychedelic community it's come to refer to a place where people who are having difficult experiences can come to be with a group of trained sitters who are there to care for, follow, and protect the visitor). My preferred mind-altering substances at the moment are CBD (smoked), essential oils in the club, and really trippy timbres.
Share a video or photo that you recorded that takes you back to a moment, and tell us a bit about that moment.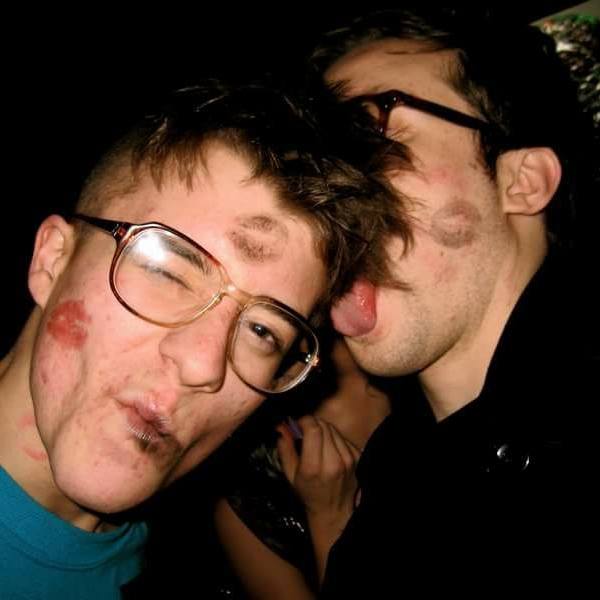 This is a photo of my departed friend Colin Ward and I at a party at Rhinoceropolis years ago, where everyone spontaneously started opening different shades of lipstick and kissing each other (though I appear to be about to lick Colin's hair). Colin was a brilliant musician and DIY angel whose archives of recorded work as 'alphabets' and 'killdby' are available online for everyone now & I love looking at this picture.
Share a track you've always wanted to include in a mix, what you love about it, and why you've never managed to include it.
Well, in honor of that memory, I have to choose Bionaut's 1992 classic, 'Everybody's Kissing Everyone'. I didn't hear this track until years later, and actually until after Colin had passed, and it always immediately makes me think of that night. Particularly because the vocoding on the vocals in the track are extremely reminiscent of the way Colin would process regularly process his own vocals. I've never included it in a set, but this is inspiring me to imagine creating a really special moment for people with it.
Tracklist:
Candescent - d 4 ( ) > s (excerpt) [unreleased]
Billy Bang - Yo! Ho Chi Minh is in the House
Ekkehard Ehlers - Prizenbad
Antonelli Electr. - Lovers Inn
Chelonis R. Jones - I Don't Know (Herbert Remix)
Ultra-Red - Can You Feel (What Time Is) It?
Lone Dancer - Iced Out
Roy England - Neutrino (Original Mix)
Archetype - A1 (Original Mix)
Auton - The Logic of Submission
ANNA & KITTIN - Forever Ravers (ANNA's Raving in Space Mix)
IVVY - Sheet Pan
Audio Bigot - Monkey Thought Transistor (Kill Them With Noise Remix)
SCNTST - Thru Infinity (Hieroglyphic Being Dub Mix)
Jason Patrick - Matrixos (Hiroko Yamamura Remix)
John Wiggins - SAW
Ghorba - Scorpio Season
Loto Retina - Tension Chrono
CN2 - Untitled feat. Archetype (Original Mix)
Pat Parker - For Straight Folks Who Don't Mind Gays But Wish They Weren't So Blatant
Mischa Lively - A Posture For Learning
Randomer - Stupid Things I Do Old School Mix
Turinn - ESO
DJ QU - Prayer (Original Mix)
Laurence Rassel & Terre Thaemlitz - Useless Movement
Entrancer - Float
Lone Dancer - Everything Tinged (Taylor Bratches Remix)
E L O N - My Tertiary Agent
Ellen Allien - Sehnsucht
Itsu - Braille (excerpt)
Mary Lattimore - Wawa By The Ocean
Kim English - Everyday (Acapella)
Follow ilind:
Published November 2019.
♫