030. likeholywine
December 2020 | The club lockdown has elicited a range of reactions from DJs—with some moving toward more ambient-leaning sounds, or finding it much harder to release mixes or sets at all. Bay Area-based DJ likeholywine has been one of the DJs continuing to carry the torch for a raucous, queer dancefloor from home, steadily releasing mixes that make us miss the smell of fog and sweat.
About the mix:
I miss the dance floor. Like any citizen of The Club, I've had to shift to experiencing dance music from the comfort of my own home/rave cave; it's definitely not the same, but it opens up new possibilities at the same time. Club music is rooted in heavy beats that get the floor moving, and while we may not be sharing the same space, we now have a unique opportunity to enjoy music with people across the world through streams and chat rooms.
My DJ mantras are "any music can be club music" and "I'm going to play whatever the hell I want," so adapting how I play for at-home-raving has been a fun challenge. This mix is almost exclusively made up of new releases that have come out post-COVID, because I wanted it to be a pulse check on dance music and how producers are interpreting it with all that's going on in 2020. I turned the lights down in my studio, turned the sound up way too loud, and transported myself to a booth playing to a dance floor that's sweaty, packed, and ecstatic.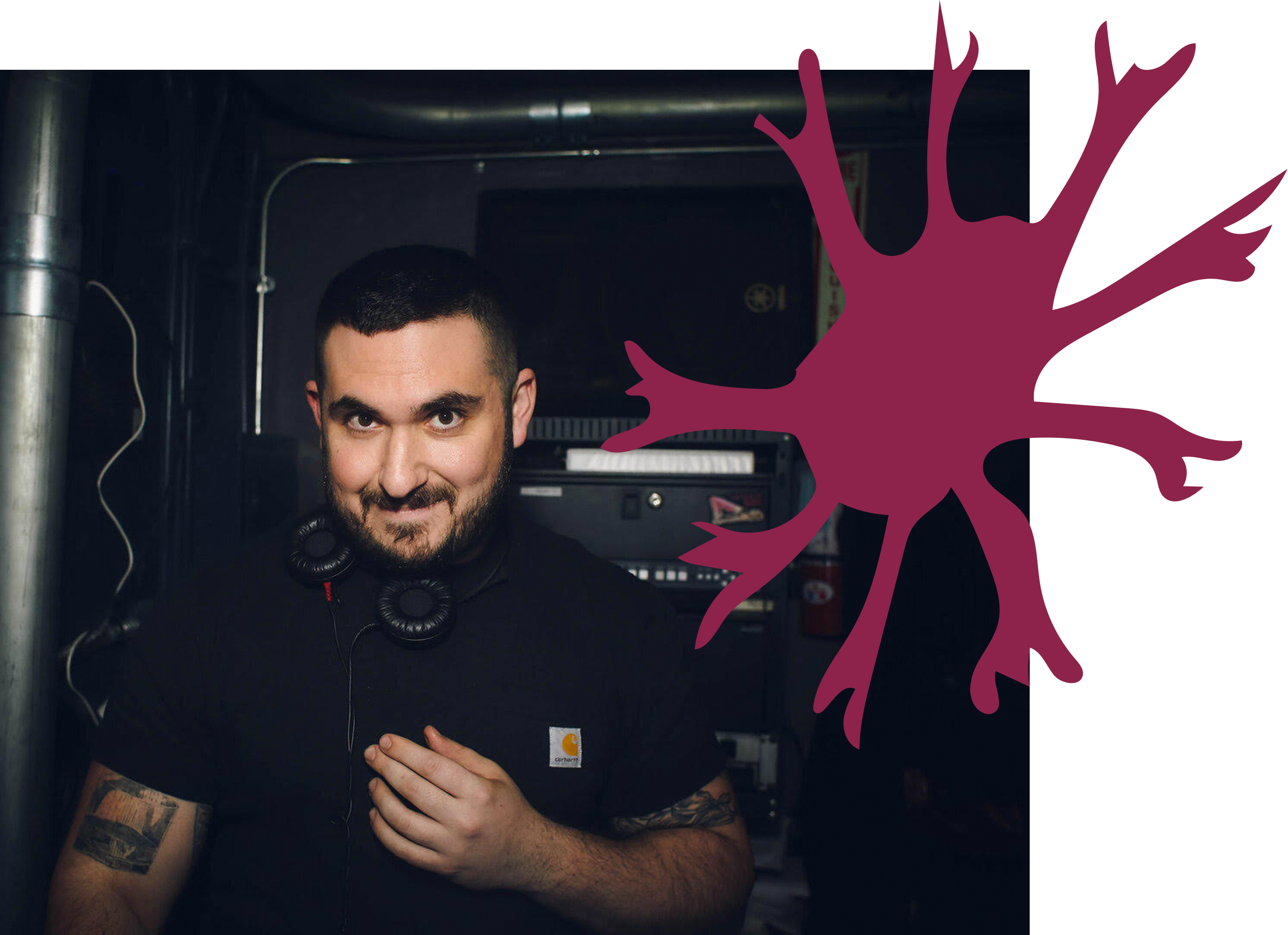 Photo: Joe Montana
What is the place you call "home" now? How do you ensure that you're both drawing inspiration and contributing there?
I was born and raised in Los Angeles and I've lived in San Francisco for the past six years. I was first exposed to nightlife by drag queen, activist, and chef Juanita MORE!, my favorite DJ and drag house mother. She taught me so much about clubbing and DJing through example. She can walk into any venue in the city and she instantly creates a sense of community and belonging around her.
I learned the club can be a home away from home and that the best part of clubbing comes from relationships with everyone else there — the club rats and artists who make up these beautiful, eclectic communities around the world. It's through these relationships that energy flows between an individual and their community.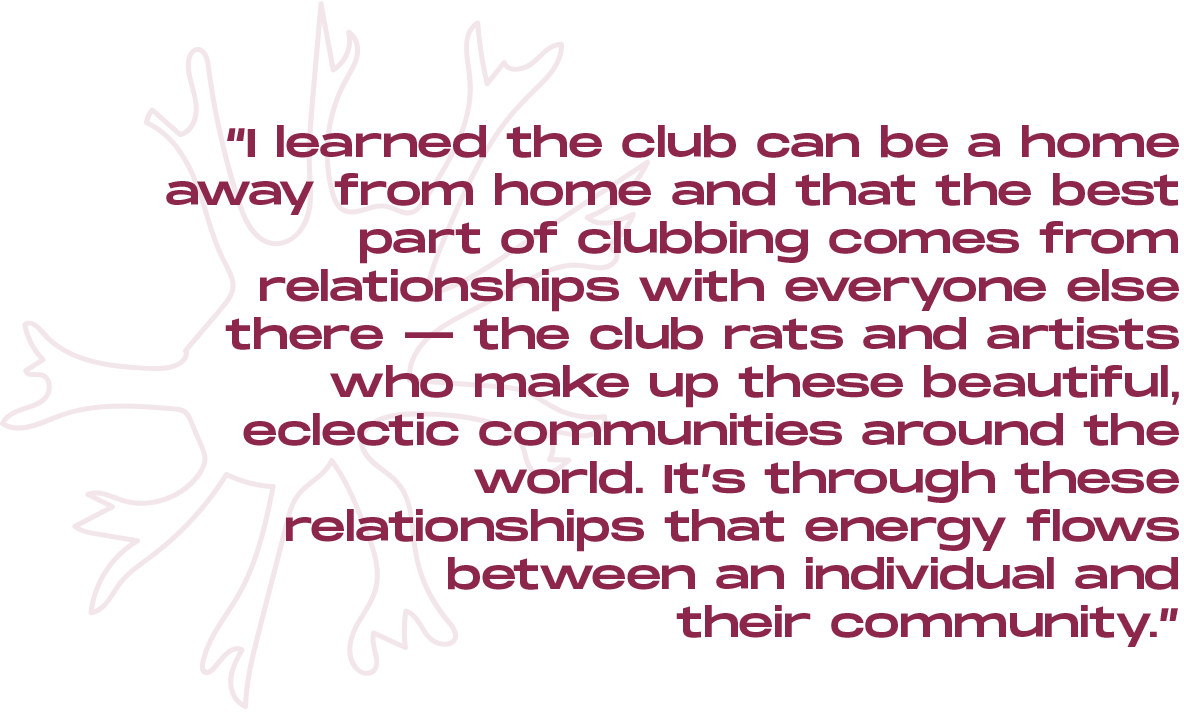 San Francisco has an incredibly strong club scene, and while I miss being able to go out and support a friend's party at the Stud on a Saturday night and seeing all my friends in one spot, I've been able to keep up with my friends by supporting their digital events, releases, and mixes. We're all apart and feeling the disconnection of quarantine, but being able to connect digitally has been a nice stopgap until we can all come together and spiral again soon.
What was the first dance music experience that really stuck with you?
One of the first experiences here in SF that showed me how special this city can be was the Honey Soundsystem 10 Year Anniversary party in 2017. The boys put together something that night that I've never experienced before; it was almost overwhelming.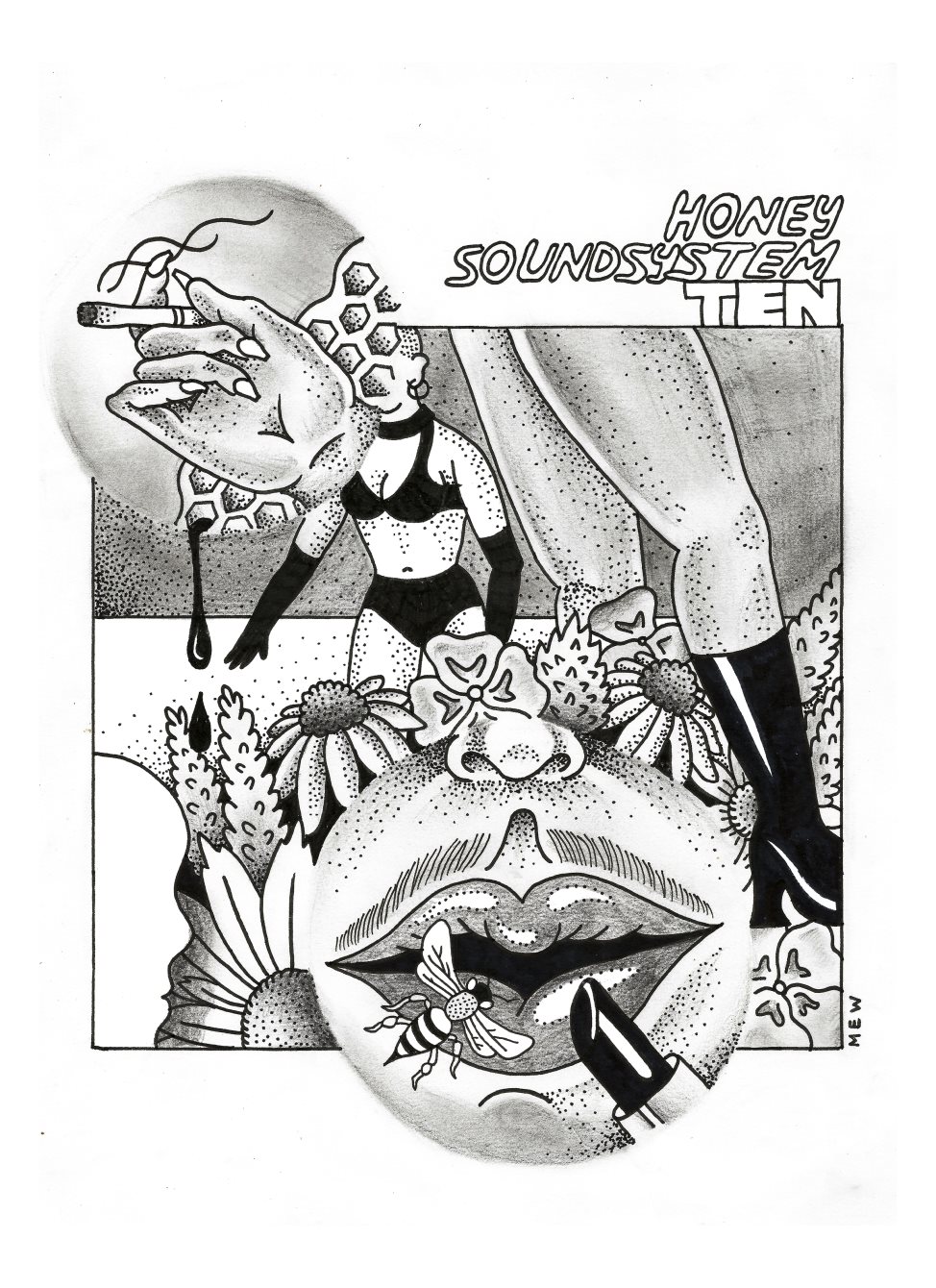 Dancing for nearly twelve hours straight to Kim Ann Foxman, Eris Drew, and Justin Cudmore all under the same roof was surreal. The whole space became a beautiful synthesis of world-class music, beautiful visuals from local talent, and Jackie House running around making everyone huff the Honey Soundsystem Double Scorpio popper blend they'd just released.
To what extent is your music tied to community, and to what extent is it about individual expression? Can those things intersect?
I think most of DJing is about having an emotional connection to the material you're playing. My family always said I was a "sponge" growing up. I would focus on something and try to learn all there was to know about it and then share my knowledge with anyone who would listen (yes I'm a Gemini.)
Similarly, my music taste is a hodgepodge of music friends have produced, from sets I've enjoyed, or music I've discovered in hours-long deep dives on Bandcamp or YouTube. Each individual track transports me back to a moment on the dance floor with them, and I can tell my own story of the dance floor by weaving those moments together.
To what extent is utopia possible, and does dance music help us get there?
It's hard to say whether utopia is possible for everyone or everywhere, but I do think utopias exist on dance floors. My sweet friend Seancé Michael wrote once that clubs are "places that allow and protect the vulnerable ecstatic queer body."
My first Folsom Weekend after moving to San Francisco, I remember Steve Fabus, a legendary San Francisco DJ whose career spans many decades, played "I Feel Love" to a packed dance floor at Powerhouse, my favorite gay bar.
The entire room lit up and was so electric, everyone became their most authentic selves in that moment, transcending ego and boundaries all together at the same time. That felt like a kind of utopia to me.
Can you share any tracks or mixes created by someone else that really bring you back to a place or are somehow connected to a specific time or locale?
I talk about this Octo Octa set for Polyglamorous' 3 Year Anniversary Party at least once a month, I'm not kidding. Every time I listen to it I'm back to dancing all night with my friends by the front left speaker where I could feel every beat in my body. The lines for the restroom and bar were so long that night that it was pointless to do anything except dance. It's a special mix that tells such a beautiful love story about the relationship Maya has with house music. You can hear her love for the genre flowing through every track and transition.
Share a video or photo that you recorded that takes you back to a moment, and tell us a bit about that moment.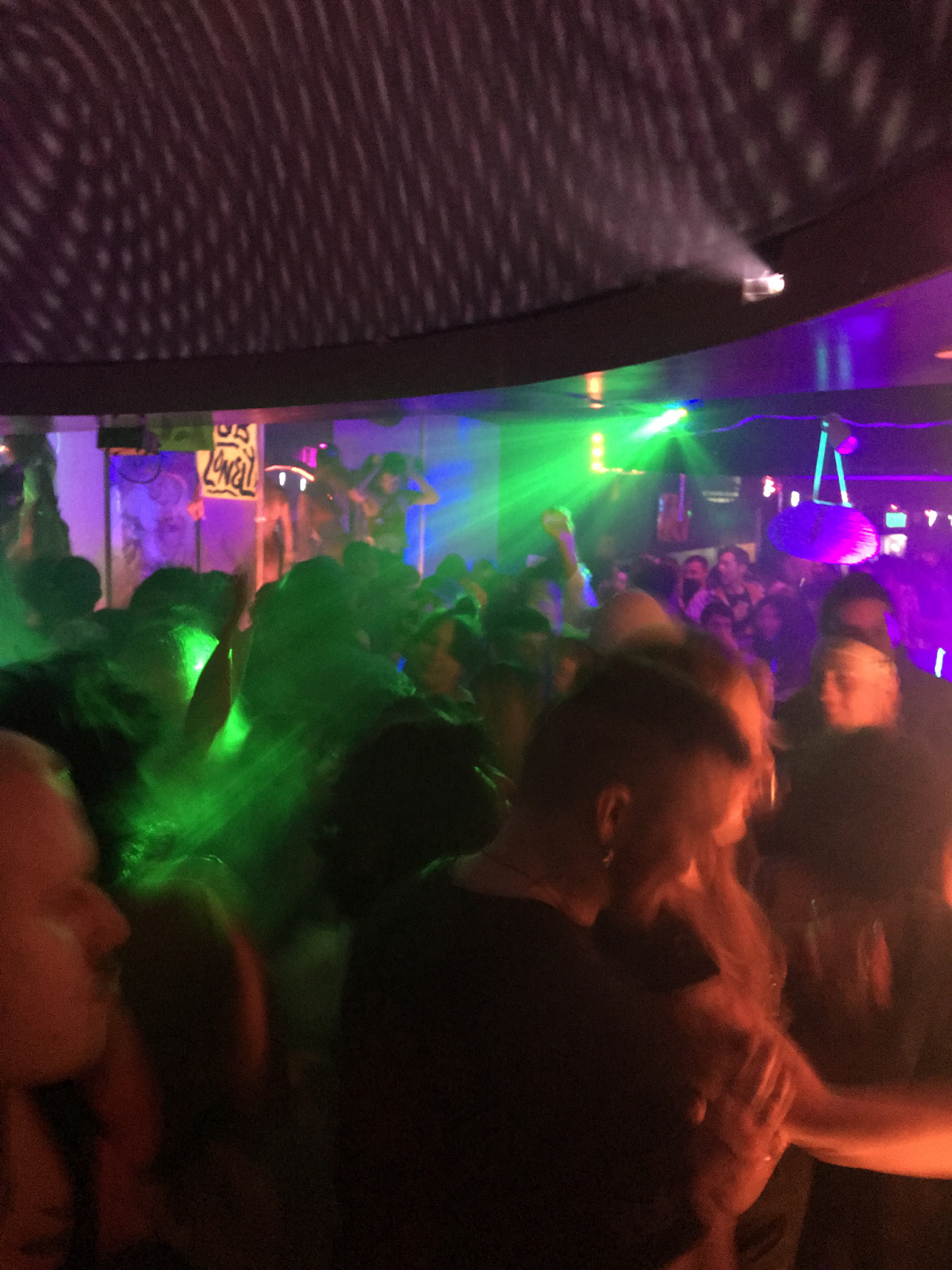 I don't remember the first time I went to Club Lonely, but this is the first picture I have on my phone from that party. I've said it once and I'll say it again: Vin, Primo, and Jeremy throw one of the best parties in the city. I probably took this photo in an attempt to capture the energy in the room: from the wild club music to the lasers flashing through the thick fog to the scores of bodies pulsing together on a crowded dance floor. Club Lonely is the place for the real club freaks and Naomi Campbell (who I had to take to the bathroom because the room was so packed.)

likeholywine's fee for this mix was donated to SF LGBT Center, a vital hub for providing access to information and resources that address the needs of the LGBT community.
Tracklist
rRoxymore - Forward Flamingo (DJ Plead Remix)
Facta - MPH
Breaka x Guava - Fiscal Hibiscus
Henzo - E, Merge & Sea (Flotation Device)
Liquid Earth - Lowrider
Sepehr - Crown Jewel
Lrds - Quanda
Ciel - Trojan Horse (DJ SWISHA Remix)
D. Tiffany - THE COSMIC CAFE
Pump Media Unlimited - RU Shy
Metrist - Total Paper
Martyn x Om Unit - Shapes
Air Max '97 - Plasticity
Hebbe - Tumble
Ariel Zetina - Compact Mirrors at the Bottom of the Sea (Ehua Remix)
Knopha - 8277-7172
Roza Terenzi - Yo-Yo
Shanti Celeste - Amiga
Austra ft. Cecile Belie - Mountain Baby (Octo Octa's Contemplation Mix)
Bézier & Vin Sol - R-Zone
Amor Satyr - Kika Uma Vez
FAUZIA - When It's All Over [with Kelela]
Follow likeholywine:
Published December 2020.
♫