049. Millia
December 2022 | Not every DJ/producer can create airy ambient as readily as heavy, percussive dancefloor stompers; Chicago's Millia ranks among those who can seemingly do it all. With solo releases on Sweat Equity, Naive, and Knightwerk Records, Millia also produces and DJs as part of the much-loved Purelink as well as DJing under Dasani Boys with his twin brother. It all seems to be driven by a map of connections on the dancefloor and beyond, and grounded in Chicago's deep dance music history while creating something fresh: playing, producing, and releasing alongside longtime heroes and new collaborators alike.
About the mix:
Whenever I'm asked to do a mix, I try my best to do something outside of my comfort zone and include elements that will make every mix a new experience for me. There's always different ways to do this, including using only vinyl / CDs for track selection, only including artists from a certain region etc., but this time around I chose to do a Jungle inspired mix - a genre I've always loved listening to but have never been able to properly mix.
Earlier this year I went to Detroit for Movement Weekend and was fortunate enough to see my favorite DJ / producer Forest Drive West for the first time ever. He did a 3 hour b2b with Patrick Russell and played a lot of Jungle music that really blew me away. Ever since then I've been diving even deeper into the genre and now felt like it was time to give it a shot for Spontaneous Affinity. Added a little bit of my own flair with some half-time bass tracks and heavy percussion sprinkled in as well - I hope you enjoy it!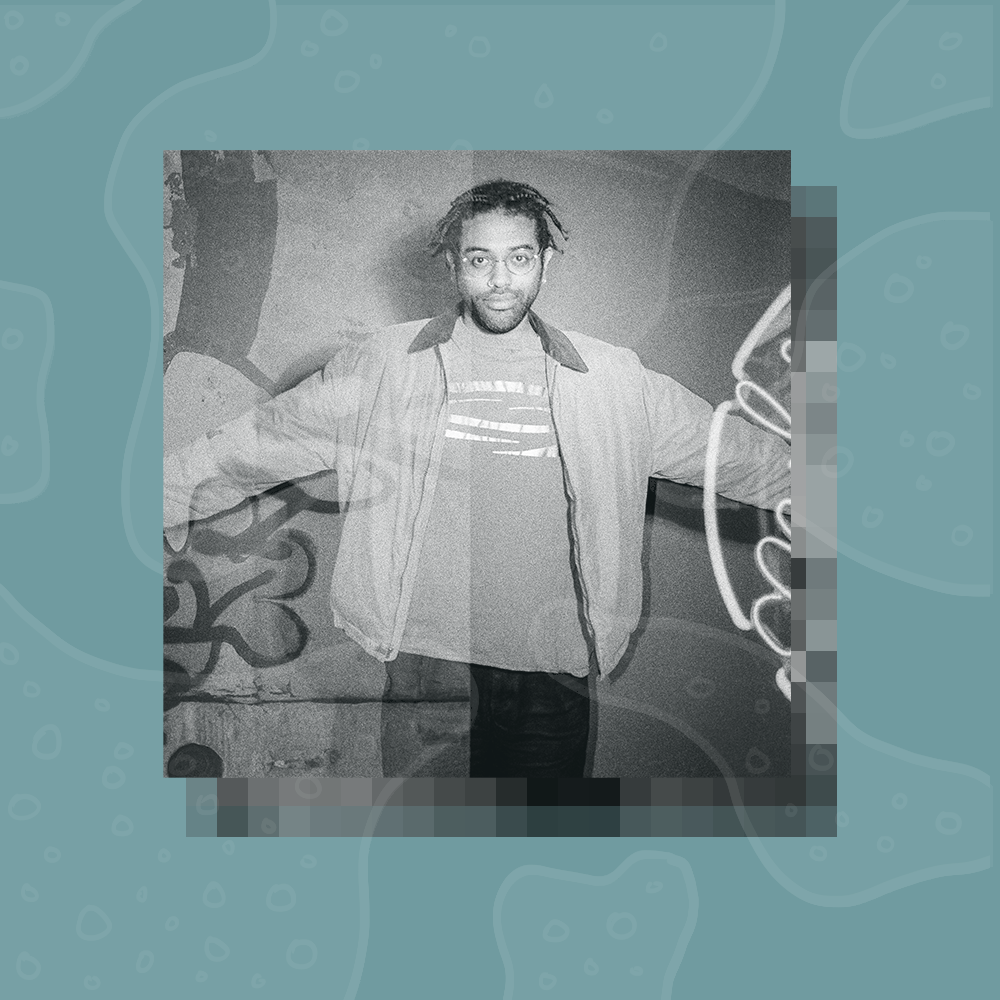 Where did you grow up? How did that shape your sound or the way you relate with music?
I was born and (mostly) raised in the midwest. After a small stint in California for a few of my elementary years, my family moved to the Chicagoland area where I've lived in the suburbs/city ever since. I was an indie rock kid in high school, but moving to the city for college had a huge impact on me, and I can directly correlate my love of house, footwork, and techno directly to living in Chicago and having access to these types of scenes and clubs.
Have you ever traveled specifically to attend a music event? Why do you seek out those experiences?
Back in 2016, my brother and some friends of ours drove 16 hours to Houston to attend the now defunct Day For Night music festival. We saw Aphex, SOPHIE, Arca, Oneohtrix, and a Bjork DJ set all in one weekend; a truly unforgettable time. I've always been one to travel for these kinds of experiences because of the memories you make along the way and the unique wave of inspiration you get after seeing such great sets.
Do you have any thoughts on the present struggles of DIY collectives and spaces and how these spaces can continue to exist?
I feel like nowadays it's only getting harder and harder for these collectives to plan and host these shows. Here in Chicago, it seems like a different DIY space is coming and going every month. It's very challenging to have a fruitful scene when the city at large is doing their best to stop these functions.
These DIY parties are important because they tend to have actual diverse lineups, provide access for people who may not be able to go to a club, and offer a stage/place for all kinds of performances. It'd be refreshing if a city like Chicago with such a rich history of dance music could protect these types of spaces so we could have a flourishing DIY scene and bring communities and people together.
Can you share any tracks or mixes created by someone else that bring you back to a specific time or place?
The first track that really comes to mind is DJ JM's "Runaway" from 2017. This was a very fun time for dance music and reminds me of when I began to really practice more. Believe it or not, I first started spinning nightcore, bubblegum bass, and PC Music when I started DJing in 2016. When 2017 came around, I wanted to find a sound that was a little bit more reflective of me and my percussive taste; I've been playing drums since 5th grade, continued through to drumline in high school, and played in some bands through early college.
I soon started to go down the rabbit hole of deconstructed club and other offshoots, where I eventually stumbled upon NKC's Even The Strong label, which self-identified as a 'hard drum' and immediately piqued my interest... The whole release was very inspirational because I never really considered drum-centric dance music was even a thing, but hearing the final track of the compilation was a watershed moment for me. It inspired me to make my Kelis "Milkshake mashup' which is my most streamed Soundcloud track to date!
In response to our open prompt for sharing nostalgic / ephemeral media, Akeem shared some posters from past shows and tracks played in each set.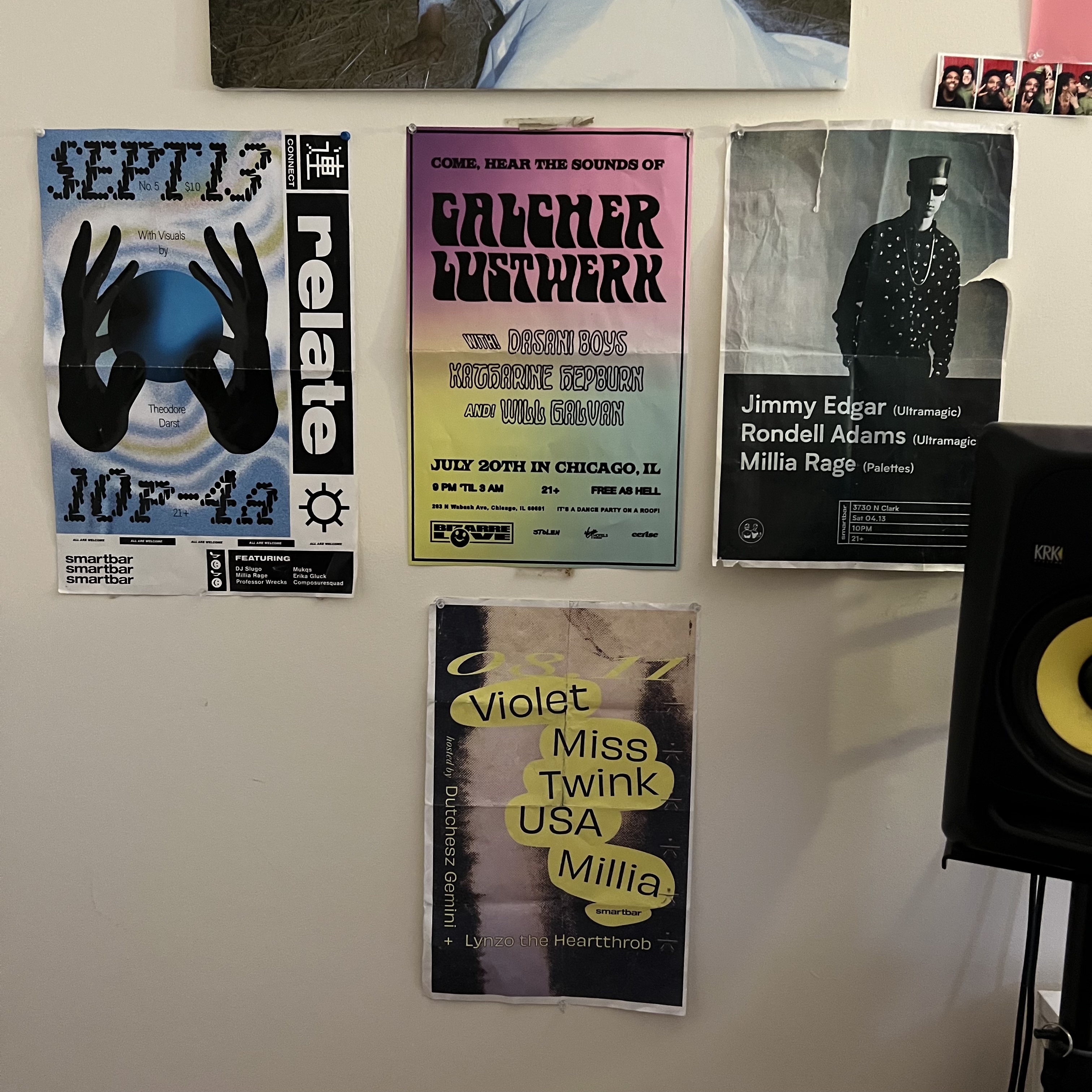 These are some show fliers that I've saved for my personal collection. Always great to be able to look back on what shows I've played in the past and how far I've come in my DJ practice. Here's some highlights from each set;
Relate @ Smartbar w/ DJ Slugo - 9/13/19
I believe this was my second ever set at Smartbar, and I was lucky enough to get to close out the night after Chicago's very own DJ Slugo. Local promoter Composuresquad always throws the best parties, with great lineups and media - NYC based artist Theodore Darst provided visuals for each artist throughout the whole night and I remember them being so sick. This was a few months after my EP was released so it was my first time playing my own tracks on a sound system that's so near and dear to me <3; since it was soon after my first release it was a very drum-techno heavy set.
Bizarre Love @ Virgin Hotel w/ Galcher Lustwerk - 7/20/19
This was a very special set for Dasani Boys (a DJ duo with my twin brother Ahmad). We really got into house music back in 2014 when we were introduced to Galcher - so you can imagine how ecstatic we were when we got the offer to open for him 5 years later. There's always a funny crowd at Virgin Hotel, so Ahmad and I got to really lean in on the "cheesier" kind of house; I played this track from a Jimmy Edgar side project King Cheetah that will always be a house fav of mine - I think it's impossible not to like this song.
Smartbar w/ Jimmy Edgar - 4/13/18
Speaking of Jimmy Edgar… he was the first DJ I ever opened for at Smartbar! I remember practicing so much for this 2 hour set on my beginners Pioneer controller - despite how nervous I was I think it went over really well. I will never forget after my set an older house head pulled me aside and said "that was a really great set until you closed with that shitty Vengaboys track."
Smartbar w/ Violet - 8/11/22
This was my most recent show at Smartbar; a 3 hour opening set for Naive label head Violet. This was a very special night in a couple of different ways - it was my first time ever spinning vinyl at Smartbar & it was the first time I ever got to meet Violet irl. She's been a supporter very early on in my journey and even invited me to contribute a track to the Naive compilation back in 2020.
I really enjoy having opening duties for these kinds of parties - they're kind of an artform in their own way and over the years I feel like I've definitely gotten a better grasp on how to do it. Feel free to check out the mix archived on my Soundcloud.
Tracklist
Pugilist - Encrypted
Felix K - Res Extensa
Tammo Hesselink - Now Attempt
Toma Kami - Gymase Chaos
Ido Plumes - Noise Water
QNS - QNS2 (Version)
LEVL - Arcola#2
Eszaid - Members Stand
Shiken Hanzo - The Reaping (VIP)
Ghost Warrior - Meet at Infinity
S'Apex - Electrocute (Overdubs)
Forest Drive West - Never For Tomorrow
Follow Millia:
Published December 2022.
♫