050. Paul Fleetwood
January 2023 | With roots in Pittsburgh and a recent stint in Denver, Paul Fleetwood is both a beacon and a connector within the North American dance music community. A co-founder of Hot Mass with hands in events such as Honcho Campout, Lot Mass, VIA Festival, the Great American Techno Festival, and Humanaut, his DJ sets and productions blend a classic, grounded Midwest techno sensibility with a modern edge, always infused with emotion and sincerity. In 2021, Fleetwood launched his own label, Perimeter Junk, which has already cemented itself as a forerunner in predicting the next wave of dancefloor heaters for kind-hearted weirdos.
About the mix:
I knew I wanted a mix that featured mostly four-on-the-floor music, upbeat but smooth and not too aggressive. I imagined a much deeper and more emotive mix than what I originally intended but that didn't make me any less happy with how it turned out.
This was recorded Saturday, October 8th, 2022 at my apartment in Denver, CO. I used two XDJ-700s and a A&H Xone:92 rotary mixer. I compiled a playlist of roughly nine hours of music from which to choose. Experimenting from that list, it took around seven takes to nail a flow that felt right.
The interview questions brought Molly Nilsson's "Never Coming Home" to mind so I decided to include it. I couldn't come up with a smarter way other than to place it as an encore so there ya go, my creative apex at work.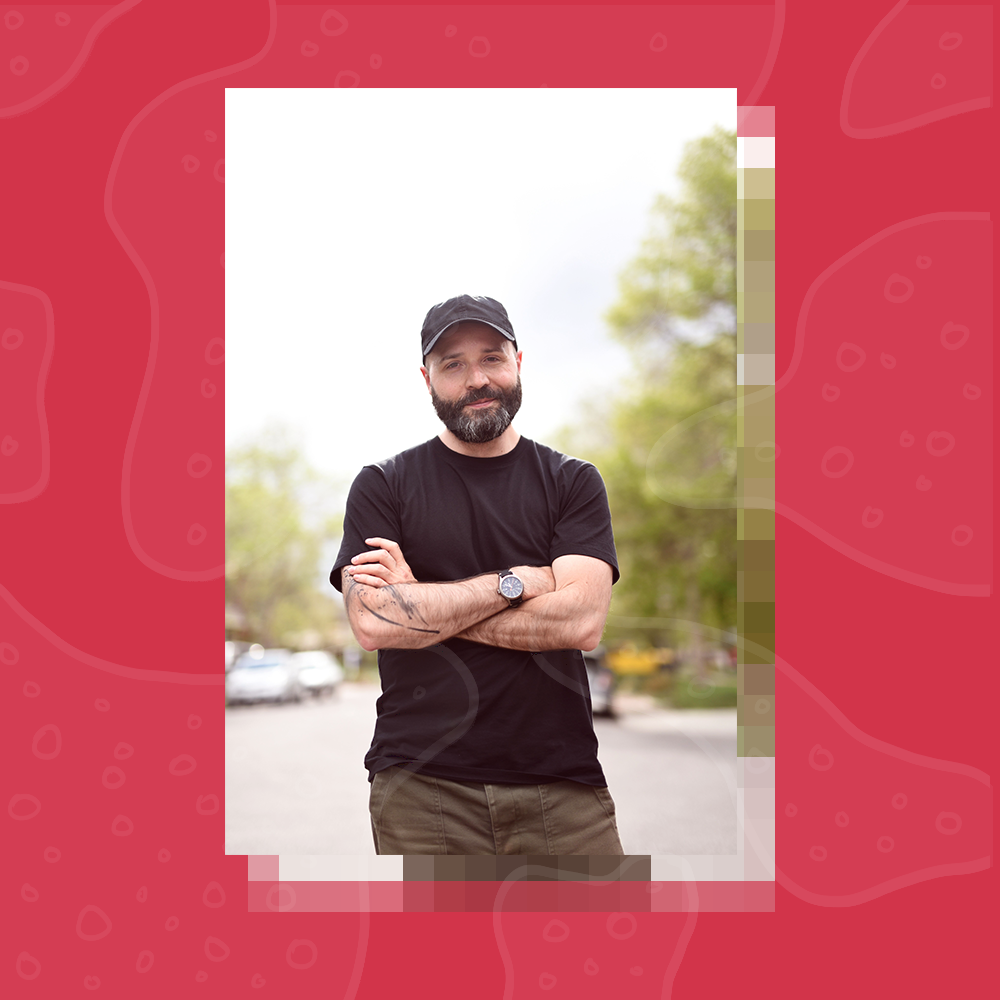 Where did you grow up? How did that shape your sound or the way you relate with music?
I grew up in Pittsburgh. Hard to say how my experience was different from anyone else's, it's all I knew for 32 or so years until I moved to Denver. Every step of the way music was a forefront interest and I was always involved directly. At first when I got into metal it was learning electric guitar, then DJing after discovering rave music, then working at the record store, then throwing parties, managing a "club," now finally writing music and running a label.
I wanted to be a part of it all, as close as I could. Contributing and feeling like I could make an impact locally came quick and was addictive, though not without growing pains. In Pittsburgh there's not much of a choice there really, it's so small, you're gonna end up face to face with everybody and have to learn to work with or around each other. You'd see the same people at the drum 'n bass weekly, the house music weekly, the techno one-offs… most raves featured handfuls of subgenres back to back on a lineup.
I learned a little bit about everything there. Everyone knew each other, or of each other, and throughout the 2000s it felt like the entire world thought that "rave shit" was passé and dead and extremely uncool, so you were bonded through that even with people you didn't very much like.
My sound specifically is an accumulation and distillation of those experiences and then some, extending back to when I was a kid. I like to think that my growing up in Pittsburgh offered a holistic love for music, not just genre work, and the city encouraged me to reflect as much of that diversity as honestly as I could through DJing.
To what extent is your music tied to community, and to what extent is it about individual expression? Can those things intersect?
For me it is both community and individual, internal and external, these two are interlinked. I am a product of my environment - a work in progress - learning from people, listening, absorbing, digesting, and reflecting. The older I get the easier it is to accept myself, understand myself, filter and express that confidently back unto the world.
I became a DJ and threw parties and made my music public because I wanted to share it. To think that I could produce any expression uninformed or uninspired at least in part by external influence seems ignorant.
Do you have any thoughts on the present struggles of DIY collectives and spaces and how these spaces can continue to exist?
As long as people exist they're gonna find a way to party, but it's not easy. I encourage people to think smaller, do right by their friends, and to be patient. Higher numbers, bigger budgets, and more popular DJs do not always account for a better time.
To what extent is utopia possible, and does dance music help us get there?
Utopia? Nah. That might exist in moments, seconds, minutes, maybe even hours if we're lucky, and this would be a personal experience so maybe not befitting the definition of a utopia. Dance music is certainly an excellent way to form a bond between people and can create such moments absolutely but it's not special or unique in that regard. I think the best we can do is become a steward of ourselves and attempt to increase the amount and length those moments occur.
What do you think is the role of local scenes in dance music today? What does "local" mean to you?
Local is everything. It all starts somewhere and those roots carry meaning and responsibility. I consider my actions as having immediate consequence to those closest to me, and making decisions that might affect groups of people holds me accountable and keeps me honest.
Even passively we represent ourselves, our music, our crew, our neighborhood, our city. When I travel somewhere, I am entering a local scene. When I live somewhere, I live in a local scene. This culture is built by people from the inside out. I recognize and respect that wherever I go. I love meeting new door people, bouncers, bartenders, tech crew, etc. Integrating with a space is enjoyable for me and heightens the experience.
The internet has blurred these lines and social media is widely accused of diminishing these personal experiences but I'm not convinced this is the case. My idea of what it means to be local doesn't necessarily apply to those near me geographically and connecting with people who share my values across the world has never been more rewarding. Localizing my approach to those I meet through earnestness and learning has been wonderfully fulfilling and leaves conventional measures of success (fame, money) almost completely obsolete.
Share a video or photo that you recorded that takes you back to a moment, and tell us a bit about that moment.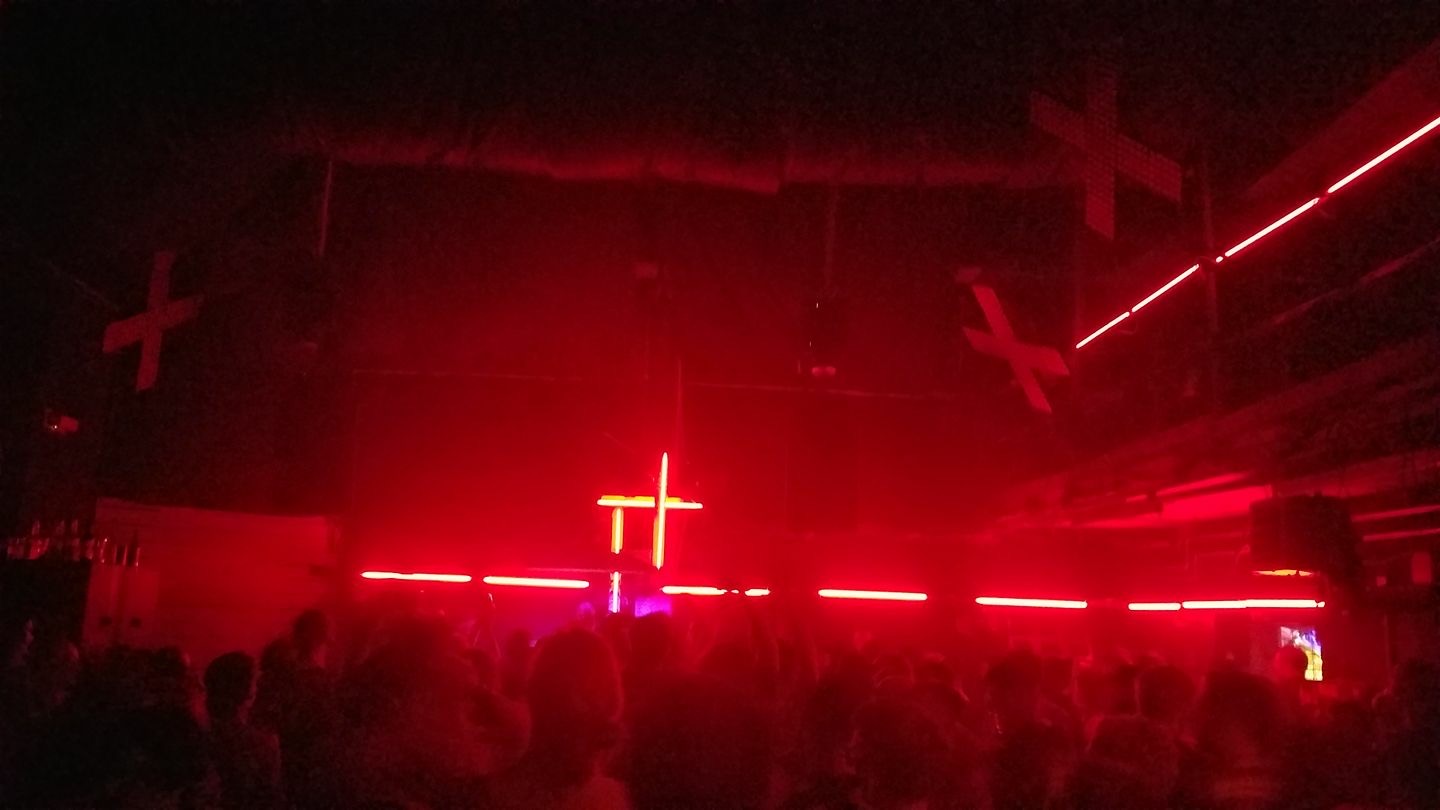 This is a photo taken of the first time I DJ'd for Cocktail D'Amore at Griessmuehle in Berlin. I promise I'm up there in the DJ booth somewhere. Not much to say other than it was my first time playing abroad and a few of my closest friends at the time were there to support me. I not only felt accomplished on a personal level but it was special with them present as they had been with me on this journey for quite some time.
Can you share any tracks or mixes that really bring you back to a specific time or place?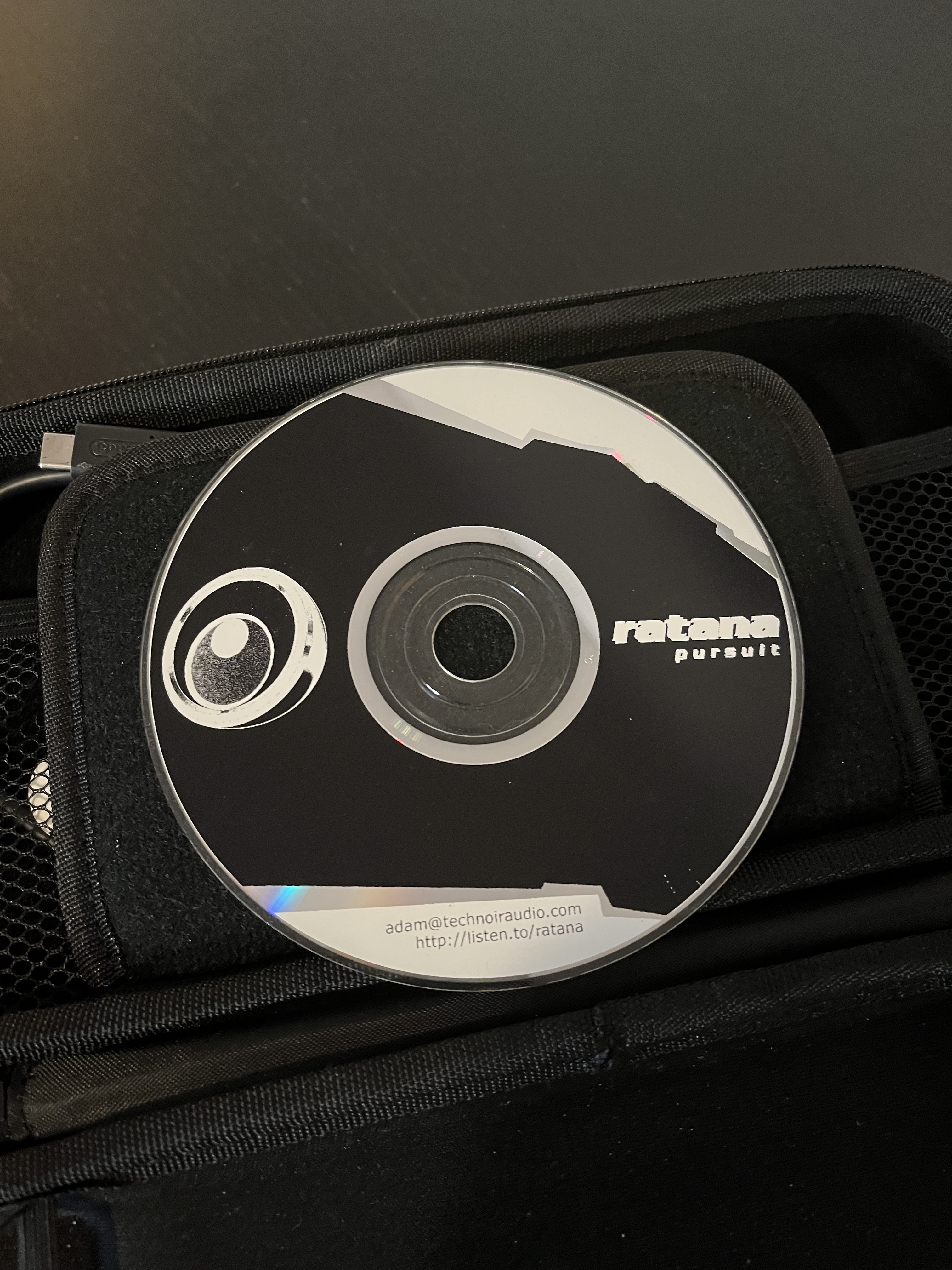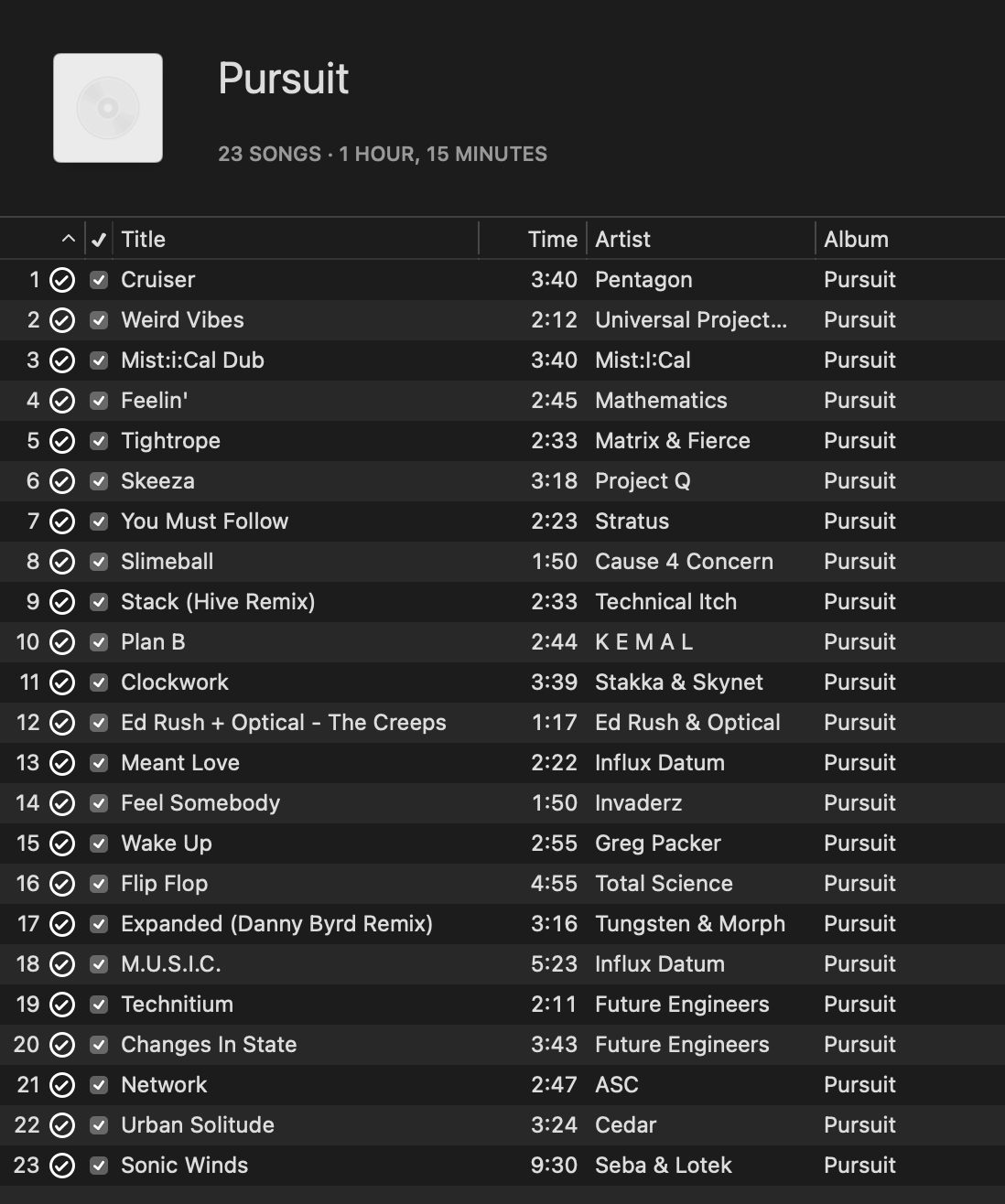 This is Adam Ratana's drum 'n bass DJ mix from around 2002 (I think!) called Pursuit. I listened to this all the time, but not since several years back when I rented a truck that had a CD player. It brings me back to a formative period for and is reminiscent of some of my earliest and strongest memories of that era in Pittsburgh's history.
I started to really get set programming through this mix. It also taught me that track selection and flow will almost always trump technical prowess from mix to mix. I met Adam at the "Rave In A Cave" party and he took it upon himself to help teach me the ropes, expand my knowledge, and improve my taste through many genres of music. This is in part tribute to the mix itself and his positive influence on me as a person and DJ.
At the time I am writing this, I unfortunately don't have a digital copy of this mix nor his permission to share it, so a picture of the disc itself is the best I can do for now.
What do you think the dance music world needs right now?
A nap
Tracklist
Inigo Kennedy - Amaranthine // Inigo Kennedy
Aether Mechanics - The 2188 Interplanetary VR-Sports Championship // Aether Mechanics
HAKIMONU - Sun Rays (Dubophonic 133 mix) // HAKIMONU
Sten - Phantom // Sushitech Records
Franz Jäger & Egotot - Shooting Star // Room Trat
Konrad Wehrmeister - Sensing // Ilian Tape
Deniro - Identifier // DGTL Records
Danny Wabbit - What Would You Call This? // Drawner
Crystal Energy - Oil Nores // bbbbbb recors
Decoder - Nandi // Float Records
LHVB - Labour // Drawner
Juri Heidemann - Ketatscha // Be As One Imprint
Miguel Bao, Franklin S - Amazonas // Parano / NO ID ARCHIVE
Kashpitzky - Midrange // Be As One Imprint
Parano / NO ID ARCHIVE - Jackfruit Jack // Parano / NO ID ARCHIVE
1morning - FLOW // 1morning
Chriz.jae - Haki // Influenced Records
1morning - Tool B.1 - (Deception) // 1morning
CH40 - Lava Zone // JUJUKA
Rhyw - Sharknado // Voam
Phost - The Mutant // naff recordings
Forest Drive West - Creeper // Ilian Tape
Diego Hostettler - Sentient Compassion // Kanzleramt
Atom™ & Tobias. - Zahlenraum (Tool) // pomelo
Franz Jäger - Lana Huntz // Hayes
otodojo - a drive without focus // otodojo
Alarico - CORPO Lies // The Grid
Mendy - Roads to the Unknown // NECHTO Records
1morning - CYCLES // 1morning
William Arist - Raindrops // Perseverancia Records
Arthur Robert - Loyal // Figure
Molly Nilsson - We're Never Coming Home // Night School
Follow Paul Fleetwood:
Published January 2023.
♫