048. Tony G
November 2022 | Tony G produces, DJs, co-runs Sorry Records, and enthusiastically supports a broad range of music on NYC's dancefloors. In addition to his own DJing and releasing tracks on Sorry, Eto Ano, Toucan Sounds, and more, he has organized ambient, experimental, and leftfield parties as Giambrone & Co at Brooklyn venues like Jupiter Disco and Mansions. Like his close collaborator, Sorry Records' Nick Boyd, Tony brings an expansive knowledge of the context of dance music and an energetic attitude to each release and dancefloor. This is part 2 of a 2 part mini-series with Sorry Records.
About the mix:
This mix was a re-creation of a set I did at the Stream Informer Glen Falls House party this past June. I recorded the live set and was hoping to release that, but I was redlining a little too hard, and the recording came out hopelessly distorted. I was really proud of the mix and put a lot of work into it, so 3 months after the fact I decided to revisit it.
In preparing the set initially I decided to pretend I was playing to the sunrise even though the set ended at 4AM. Sunrise for me means… trance, I guess. It was a really cute party and lots of friends (Alyce included!) were there providing tons of warm and wiggly energy. I remember looking out and seeing someone twerking on the subwoofer at one point. My summer was kind of up and down after that, so it was a really positive memory to revisit.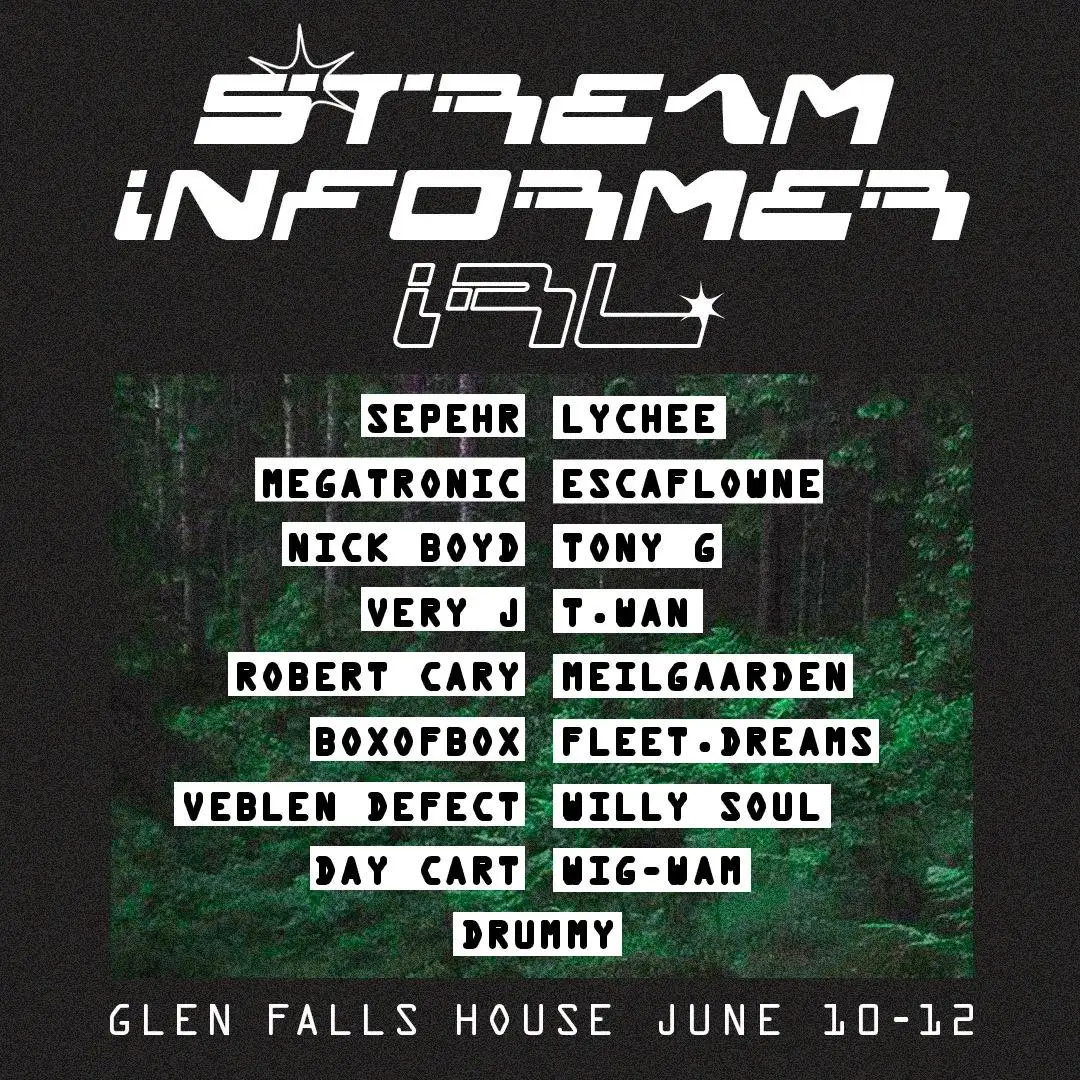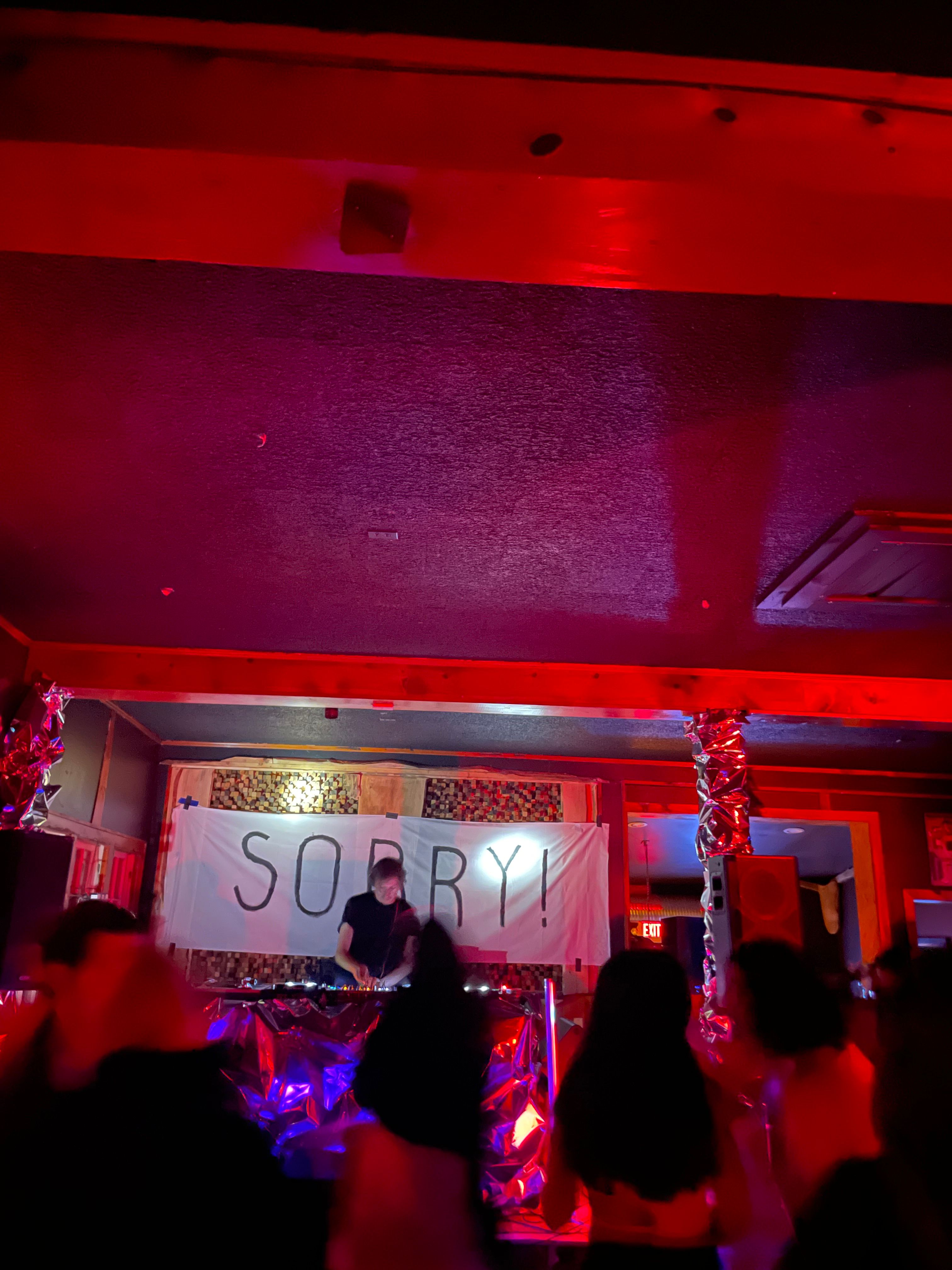 I did this incarnation of the mix in my living room with 2 old CDJ 2000s, one XDJ 700 that I borrowed from my friend Danny, and my Mastersound 4 rotary mixer. I spent one day practicing, then did two full takes over the next two evenings. The take you're hearing right now was the last one that I recorded. Looking back at the tracklist, one thing that stands out is how much new music I played, which is pretty rare for me. You're not usually gonna see this much music from 2020 and beyond in a Tony G tracklist.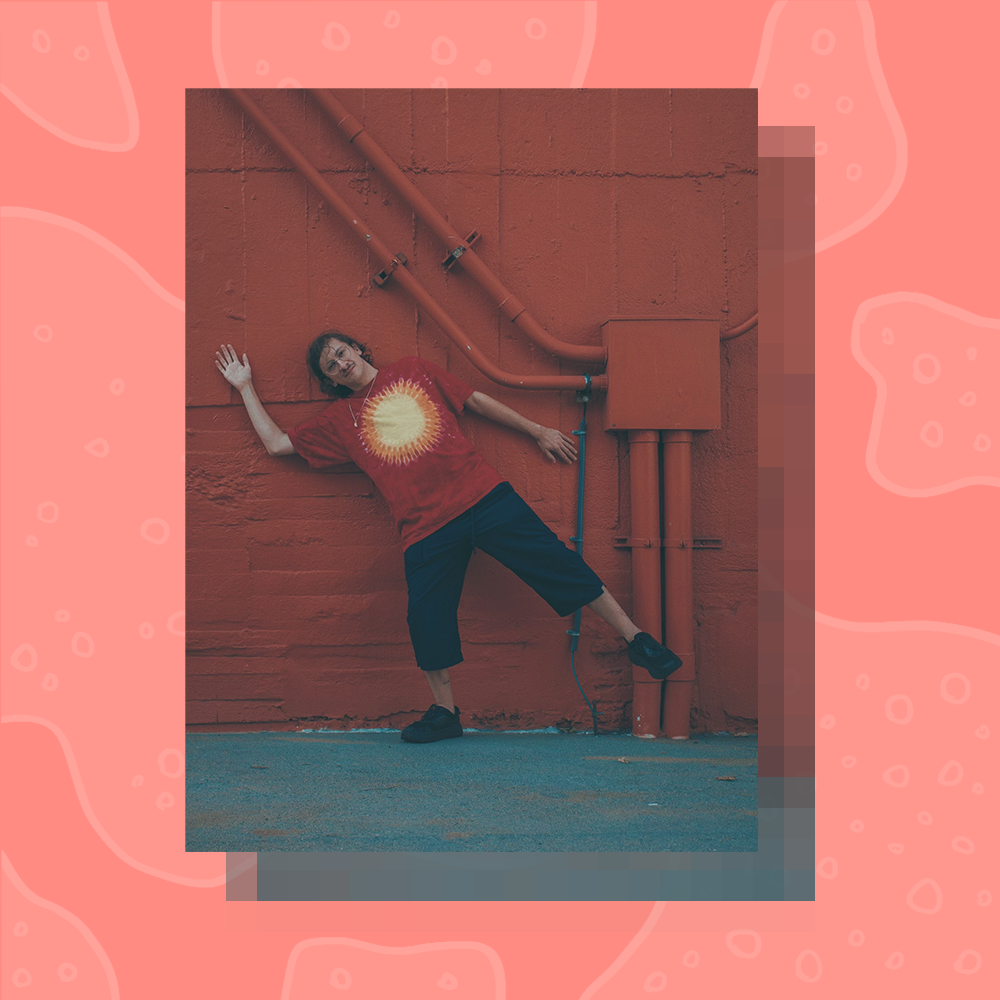 Where did you grow up? How did that shape your sound or the way you relate with music?
I grew up in the suburbs of Rochester, New York, about six hours northwest of NYC by car. Rochester is a mid-sized city of about a quarter of a million people surrounded by some of the biggest suburban sprawl in the country. I consider it to be the end of the rust belt, there's a similar energy to cities like Cleveland and Detroit. It has that post-industrial feel that techno was born out of, but there's also a lot of nice nature. You can go from the inner-city to farmland in 20 minutes by car. Something about that has left a synesthetic imprint on my mind, I think.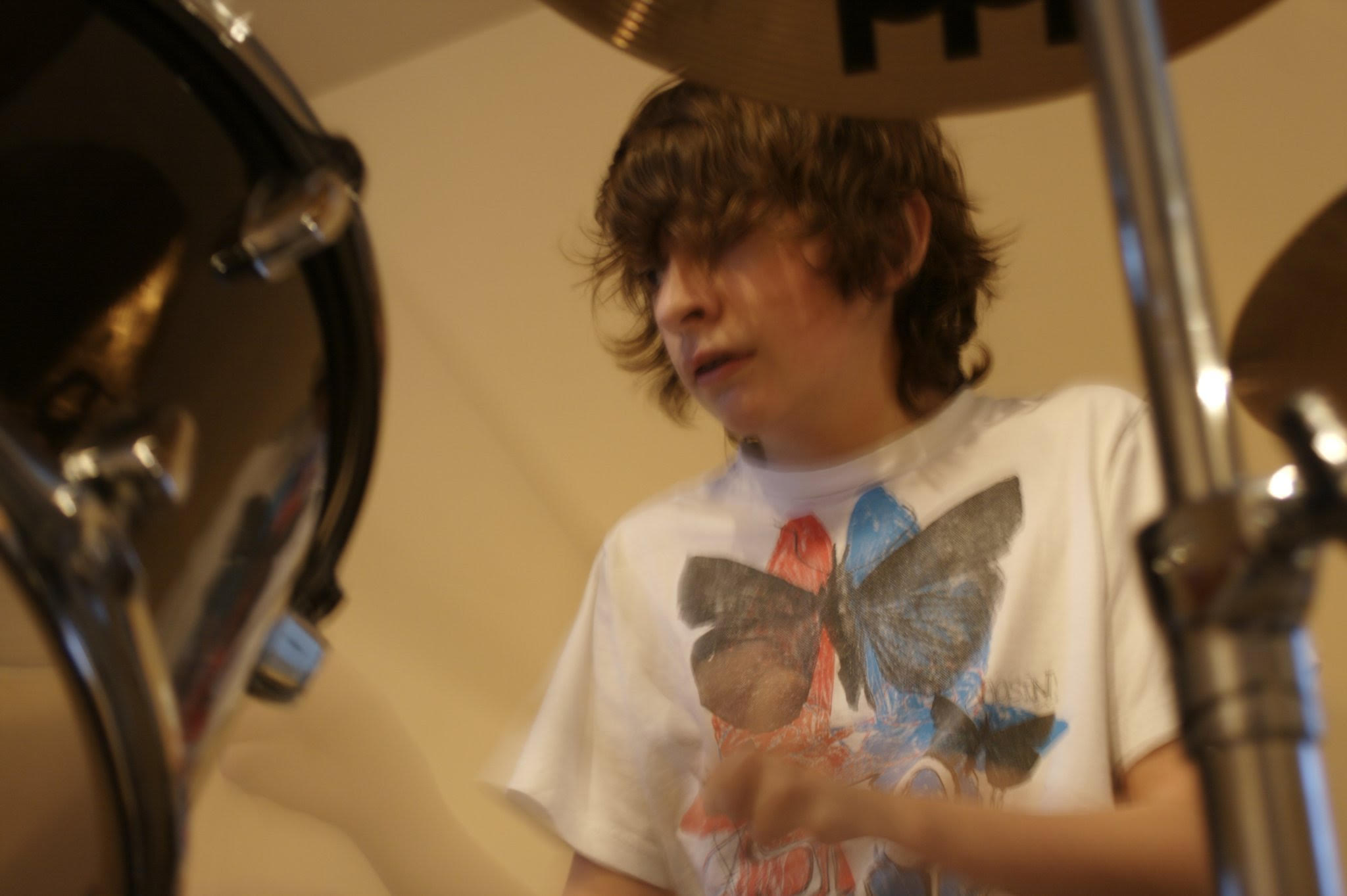 Rochester is also home to the esteemed Eastman School of Music, so there's a ton of jazz and classical music around the city, which of course I was completely uninterested in growing up. I did take jazz guitar lessons and play in my high school jazz band, but in my heart I was a scene kid, deep into pop-punk, screamo, metalcore, etc. The only bands that would tour through Rochester were from that scene, so it was what I had access to.
A few of those bands (Enter Shikari in a very British way, 3OH!3 in a very American way) touched on electronics in their music, so that was probably my first exposure to that whole set of timbres. I know I'm not the only scene kid that found their way into dance music… it's a pretty logical pipeline. It wasn't until I moved to New York to go to college in 2011 that I got put on to 'cooler' music, but i'm proud of my emo kid roots!
While I'm talking Rochester I have to give to shout outs: First is Record Archive, which is this cavernous warehouse record store that calls itself "the Amoeba of the East Coast." Every time I go visit home I spend hours digging there. Like most huge record stores that are focused on jazz, rock, pop, etc, they have a huge 12" section that is pretty much untouched, and I've found some absolute gold over the years in there that has really shaped my collection and gifted me a few of those "signature tracks" that every DJ has.
Second is Sole Rehab, which is an incredible "monthly, queer focused rager" thrown by Tom DeBlase and a couple of other local heads. I went to my first Sole Rehab when I was home for Thanksgiving in 2019, and was absolutely blown away to see a thriving, raunchy queer party happening in Rochester. It was so beautiful and inspiring. Being in New York for so long, I really value scenes and queer spaces in smaller cities where they are less prominent. Since then I've got to know the Sole community well, and I got to play at a Sole Rehab this past summer. It was an incredible homecoming gig and a huge honor! I feel like I'll probably end up living back in Rochester and contributing more to the DIY scene there at some point in my life.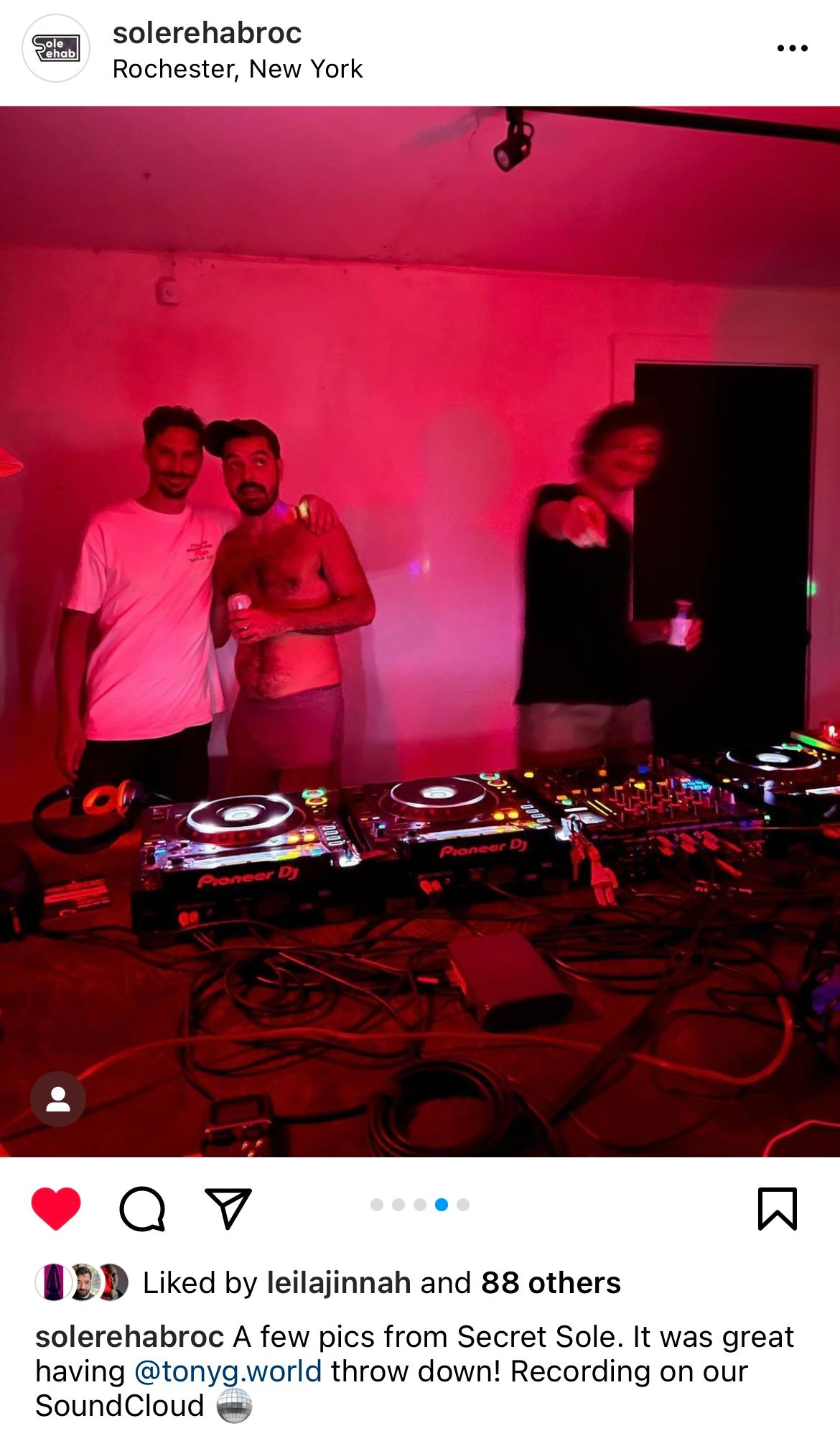 What was the first dance music experience that really stuck with you?
My descent into dance music obsession has been slow and steady. I didn't have that one monumental night out that blew my mind and made me an instant convert to the House of Jack, so I'll mention a few key moments:
I started investigating dance music in 2017 after orbiting around it for years as an indie-rocker and sample digging hip-hop producer. I had just gotten the bug and released my first house track (also the first dance track we put out on Sorry Records, the label I co-run with Nick Boyd) when my friend Bohan Phoenix whisked me away from New York for a three month tour of China. It was a rap tour, but I had a few chances to play some pretty musically-confused club sets. Nothing I'd want to revisit, but it was a necessary transitional period. I spent a lot of time downloading and listening to dance tracks in headphones on that tour.
After that tour I lived in my parents basement for a few months and continued to ponder electronic music from afar. In January 2018 I emerged for a trip to London with some friends and had three consecutive nights out for the first time ever, at Corsica, fabric, and XOYO. DJ Zinc b2b Special Request at Corsica was the musical highlight, but that entire first marathon weekend was pretty huge for me and helped me understand the exasperated joy of a full weekend of club hopping.
In early 2019 we did another China tour, and this time I was a lot more well-versed. I got to play at this tiny club in Chengdu called Funkytown. When I say tiny, I mean it - the dancefloor is super narrow and feels packed with 50 people on it. I still hadn't DJ'd publicly much, and I don't think I did a particularly great job, but I remember playing this wacky tofubeats track with a ton of key changes and someone handing me a shot during it - my first Superstar DJ moment.
Later that night I heard one of the DJs play "Isolation" by Joy Division and it completely went off. Very inspiring to this budding genre-agnostic DJ.
Back in New York, I had started going clubbing more. I didn't know a lot of people in the scene at first, and I was pretty shy, so I initially was going out to see more big name, out of town DJs. I did find my way onto Half Moon Radio, which had an incredible community of local talent around it. My first time ever using CDJs was at Half Moon! Going to some of their early parties with DJs like AceMo, MoMA Ready, and Dee Diggs was super formative and gave me a taste of the local community. I also heard my tracks played out at some of those parties for the first time ever which I will never forget!
Last thing I'll mention: I went to my first Sustain-Release in 2019. DJ Marcelle's dark & stormy pool party set, Wata Igarashi piloting the techno mothership, and Powder's storied closing set all left deep chasms in my brain that changed me for life.. But I was still pretty new to the community, feeling very shy and intimidated socially. These feelings informed a lot of my early dance music experiences if I'm being honest, and it took a lot of persistence to overcome the initial shyness and insecurity and start making friends. But once I started getting more involved and going out to see more local DJs, it very quickly snowballed and completely 180'd into a beautiful new community of friends! Hallelujah!
Have you ever traveled specifically to attend a music event? Why do you seek out those experiences?
Yes! Many times in my life, dating all the way back to my first concert, which was Green Day's American Idiot tour in Buffalo in 2005, a whole hour away from my parents house.
As far as dance music, this past year I went to a ton of festivals: Slingshot in Durham, Return To The Source in Detroit, Honcho Campout in Pennsylvania, and Sustain-Release in Upstate NY. I had great, unique experiences at all of them. I seek out travel-music experiences because a) the music is usually really exceptional and b) it's an opportunity to meet more dance music freaks! There's something so special about the gatherings of people that all travel with the intention of experiencing dance music, especially in contrast to clubbing in New York, where you're constantly sifting through crowds of people who just want to party and don't need to go far to do it. I hold all those experiences really close to my brain and heart, collectively they've really helped me see the bigger picture of the rich tapestry that is the American Dance Music Underground.
Something else I really appreciate about dance music and its global community is it provides a real avenue for meeting like-minded people when you travel. It's nice to know that basically any city I visit I can find an underground club and go there and meet someone that I have mutual friends, experiences, and interests with. Not all hobbies come with this intrinsic social connection and global community.
To what extent is your music tied to community, and to what extent is it about individual expression? Can those things intersect?
When I first got into dance music it was strictly because I liked the music. I had a few friends who were into it that shepherded me in, but I wasn't thinking about community or who I'd meet. Over the years, I've come to understand the context around dance music, and how important community is and always has been to its existence. The past year of my life has been a deep dive into the NYC dance community, and it's been totally transformative and amazing for me. I used to be into indie rock and hip-hop, but never really found any way into those scenes in New York. Becoming a part of a music community has been so rewarding. I almost hesitate to call it a music community because it's a lot more than that!
There's still endless room for individual expression within community - if you've ever danced next to me you know I love to express myself 🦀 (crab emoji) In the moment, the act of DJing, to me, is all about individual expression. It's an opportunity to share your voice and the silly sounds inside of your brain with people. But the greater cause is communal, and the most memorable times I have at clubs these days are on the fringes of the dancefloor or outside the club, hugging and smiling and laughing with friends and feeling like a part of something communal and safe and shared.
Can you talk a bit about your involvement in Sorry Records? How did you first get involved with the label and what role do you play now?
Nick started Sorry when we were living together in an apartment in Park Slope in 2015. I was part of an indie rock band called Harmony House and when we made a record Nick helped us put the release together. We decided to put a name on it, Nick drew the logo, and we made a Bandcamp page. Just like that, Sorry Records was born.
For a few years Nick was the sole proprietor of Sorry, putting out music from his friends, throwing shows, and trying to find an identity for the label before we had landed on dance music. I don't really remember a specific moment or conversation where I officially became a part of it, it happened naturally as we both got into dance music around 2017. All I know is at some point around then I added "co-runs Sorry Records" to all of my social media bios.
My role in the label now is pretty amorphous. I definitely consider Sorry to be largely Nick's vision that I help out with, and I'm happy to play that number two role. As a music producer, I have a lot of technical knowledge that Nick doesn't. I'm also a video editor and designer for a living, so I make a lot of promo content. More than anything though, I'm there for Nick to bounce ideas off of, I'm at the parties lending a hand, and I'm doing my best to fill in any gaps anywhere I can. We're very DIY, there has never been much of a plan with anything we do, which does not lend itself to having clearly defined roles.
Running a label with your best friend can be challenging, we're always working to maintain our friendship with our working relationship. There's a lot of checking in necessary and we're still constantly learning to communicate. Nick and I are very different on a personality level, which creates its issues but also we work really well together and at the end of the day we ride or die for each other. Sorry is very much a labor of love for the two of us, and I think it has very quickly already exceeded any expectations we had of where it might take us in our lives.
Share a video or photo that you recorded that takes you back to a moment, and tell us a bit about that moment.
Timestamp on this is 4:27 am, January 22 2022. I was walking home from Nowadays to my apartment in Ridgewood, a 20 minute journey that I am intimately familiar with after taking it so many times. My dear friend Haruka played that night, I went out by myself. I remember her playing a lot of slamming techno and sitting at one of the tables by the bar with her after and chatting for a long time.
On the walk home, there was an ATM sign outside of a deli that had come partially unhinged, and was endlessly flapping in the wind like a pendulum keeping some otherworldly time. Very relatable after a night at the club. It's stuck with me ever since for whatever reason.
For the producers: share a track that you never completed or shared, and talk about why that track never made the cut, why you hesitated.
This is one of the first "techno" tracks I ever made. I probably started it in 2014, before I was really interested in or aware of much dance music. I was mostly making hip-hop beats but occasionally a dance track would slip through and influence me to try out something four on the floor. In this case it was "Walk On In" by Doc Daneeka, which is a house track with a big, crackly gospel vocal sample in it. Also, Kanye West's "Yeezus" had come out the year before, and the more dance-influenced production on there had made a huge impact on me. I found a similar sample of a fire-and-brimstone preacher and flipped it into a techno track.
At the time I wasn't really making anything else that sounded like this, so it sat on the shelf for a long time. In 2019 I was getting an EP together for Knightwerk Records that I felt like this would fit into, so I revisited it and did an updated mix. I submitted it to with the EP but pretty quickly began to feel reservations about it. I started thinking more critically about the sample, how it was the voice of a black preacher, ripped off the internet with little thought and removed from its context into a brooding dance track. Was there any motivation behind why I chose the sample, or did it just sound cool? It didn't take much thinking on my part to come up with an answer. I shelved the track and since then I've been more thoughtful about what I sample, particularly with vocals. I think it's important as a white person in dance music.
Tracklist
TANK JR. - THE TIMBALES R TOO LOUD (2021)
Nabucodonosor - Curicó XX-1 (alto al fuego) (2019)
Morph - Morphing (1994)
Appleblim & Peverelist - Circling (2008)
Kilig & Ciel - Free (2022)
Femin-XY - Safe Space DJ Tool (2021)
Vladimir Dubyshkin - I Decided To Fly (2018)
Furtive - Pillars (2022)
Kush Jones - Doppler (2020)
Seimei - Kaleidoscope (2021)
SWAP MEET! - TWERP FIT (2020)
Buckaroo! - Hand Tool (2019)
Can - Dizzy Spoon (System 7 Mix) (1997)
Low Budget Aliens - Hazardous Waste Pump (2020)
Mike Parker - Voiceprint: Voice Two (1999)
DJ T-1000 - My Body Is Ready (P. Leone EMS Remix) (2019)
D.Dan - Sun Over I-5 South (2020)
Secret Knowledge - Sugar Daddy (Tripping On The Moon Remix) (1993)
Doss - Puppy (2021)
AraabMuzik - Streetz Tonight (2011)
New Members - Stargazer (2020)
Deniro - Painting 4 (2019)
Callisto - Resistance (2000)
Jackson Ryland - Blaze Freak (2020)
Mr. Monday - Future (Carl's Future Beats) (1995)
Heiko Laux - Kick And Kiss (2002)
Los Hermanos - Resurrection (2004)
Joey Beltram - Untitled (1998)
Jam & Spoon - Stella (1992)
Ineffekt - Solaris (2020)
The Field - Everyday (2007)
Levon Vincent - KISS MARRY KILL (2019)
Urban Hype - Living In A Fantasy (Greed Club Mix) (1992)
Follow Tony G & Sorry Records:
Published November 2022.
♫