027. Sis Girl
August 2020 | Now based in the Bay Area, Sis Girl has become a staple of the US queer underground via the close-knit and musically multifaceted Pittsburgh dance music community and through unforgettable sets at festivals like Gays Hate Techno and Honcho Campout. A co-founder of Pittsburgh's MESH, alongside ChadKid and newly-minted resident Calin, and a resident of Kosmetik in San Francisco, their sets traverse many tempos within a dreamy, bassy, and effervescent palette. Their mix is a perfect backdrop as we lament the absence of those queer summer moments in the woods due to the COVID-19 pandemic, bouncing between melancholic reflection and joyful reminiscence.
About the mix:
The tracks I put into this mix have been some I have been sitting on for a while and wanted to put together. When quarantine because of COVID started I wanted to create something with energy but still something on a tempo that wouldn't necessarily be played on a dance floor.
The mix is recorded all around 100 BPM but still brings energy so it's great for a mellow time or something different. The tracks are new plus some that I've had tucked away for a time like this. It's one of my favorite things I've put together and I hope it brings people a lot of comfort and happiness during this time.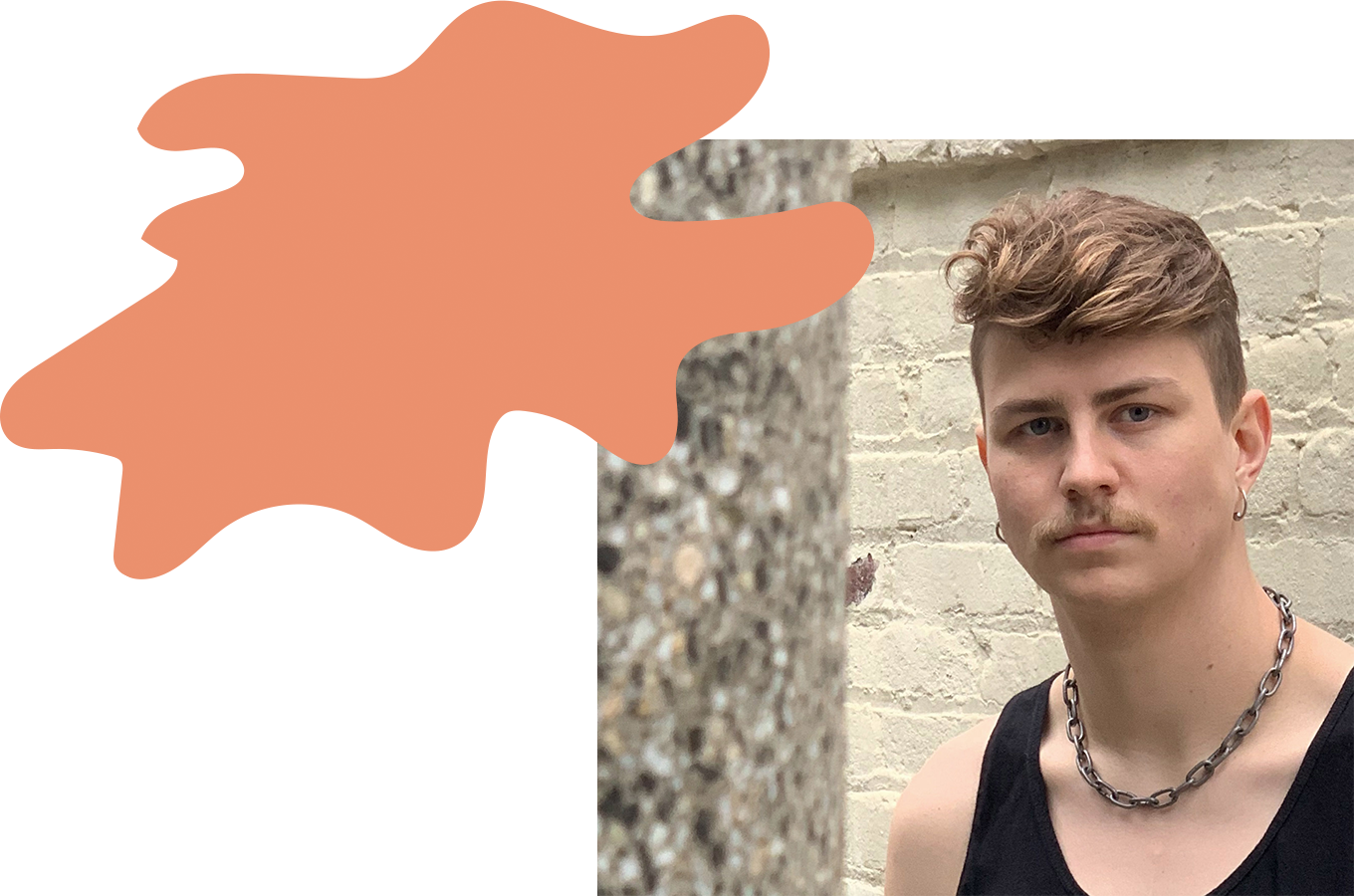 Where did you grow up? How did that shape your sound or the way you relate with music?
I grew up in Pittsburgh, Pennsylvania. The scene and city there helped shape me more as a person/DJ then probably anything else. The scene there is so diverse in terms of sound and so open minded in accepting so many different types of people so it really helped me express who I was. I'm able to be who I am and play what I want there and still feel supported which has been vital to who I am.
There is so much diversity in sounds within the city and who is brought to the city it really allows you to be dynamic in what you play and listen to. It's a really beautiful place and has really helped me grow and become who I am. Plus everyone is super supportive and whenever you're feeling doubt or down you can always seek out help to bring yourself up. My true family is there and I'll always be grateful for it.
Have you ever traveled specifically to attend a music event? Why do you seek out those experiences?
I have traveled many times for music events! Those experiences have always been super vital to me because they've helped me build amazing relationships and see amazing artists.
Every local scene is different so when you branch out and experience other scenes you get to experience a lot more. Every party is different and people play differently according to the party and scene. For a while, me and Pittsburgh people were going to Cleveland frequently for In Training parties. Every set I witnessed there was so dynamic and people really went all out to play in that space. Traveling has helped me understand versatility and unity of scenes so much more.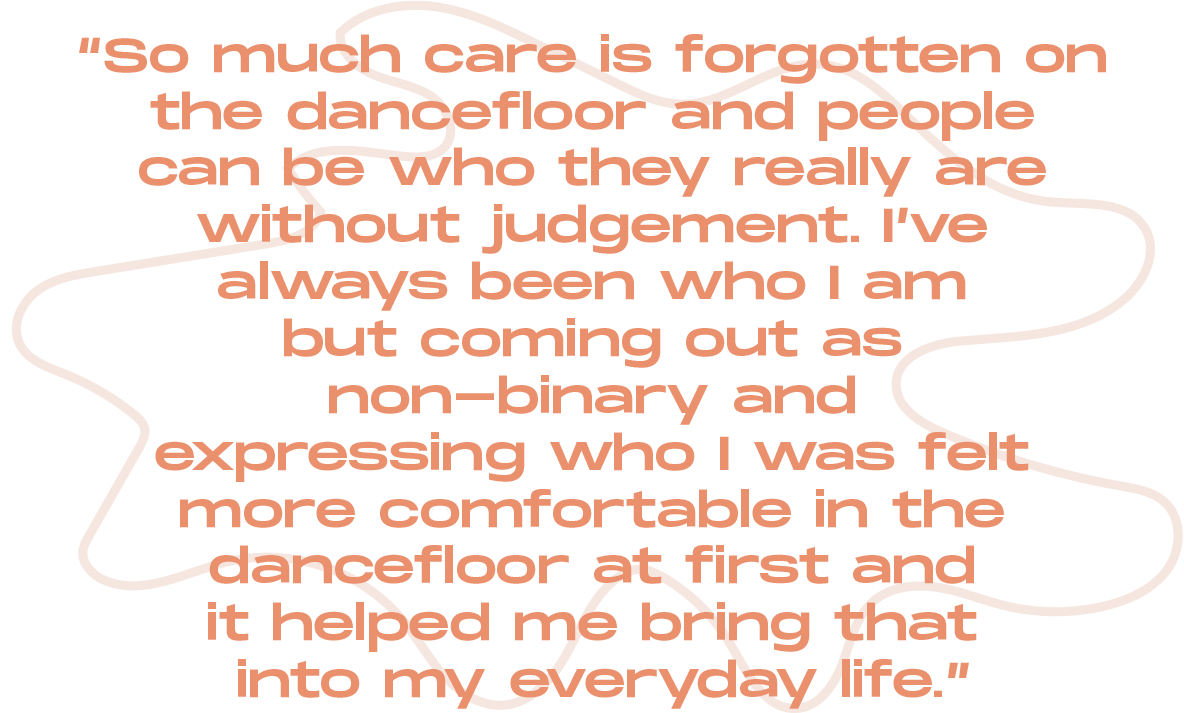 Can you tell us about something you've discovered about yourself through a dancefloor?
The dancefloor really helped me figure out identity, as cheesy as that sounds. So much care is forgotten on the dancefloor and people can be who they really are without judgement. I've always been who I am but coming out as non-binary and expressing who I was felt more comfortable in the dancefloor at first and it helped me bring that into my everyday life.
Music makes people want to unite, love and hear each other, so over time it helped me feel heard. Then playing music helped me feel that more and inspired me to bring that to people.
Share a video or photo that you recorded that takes you back to a moment, and tell us a bit about that moment.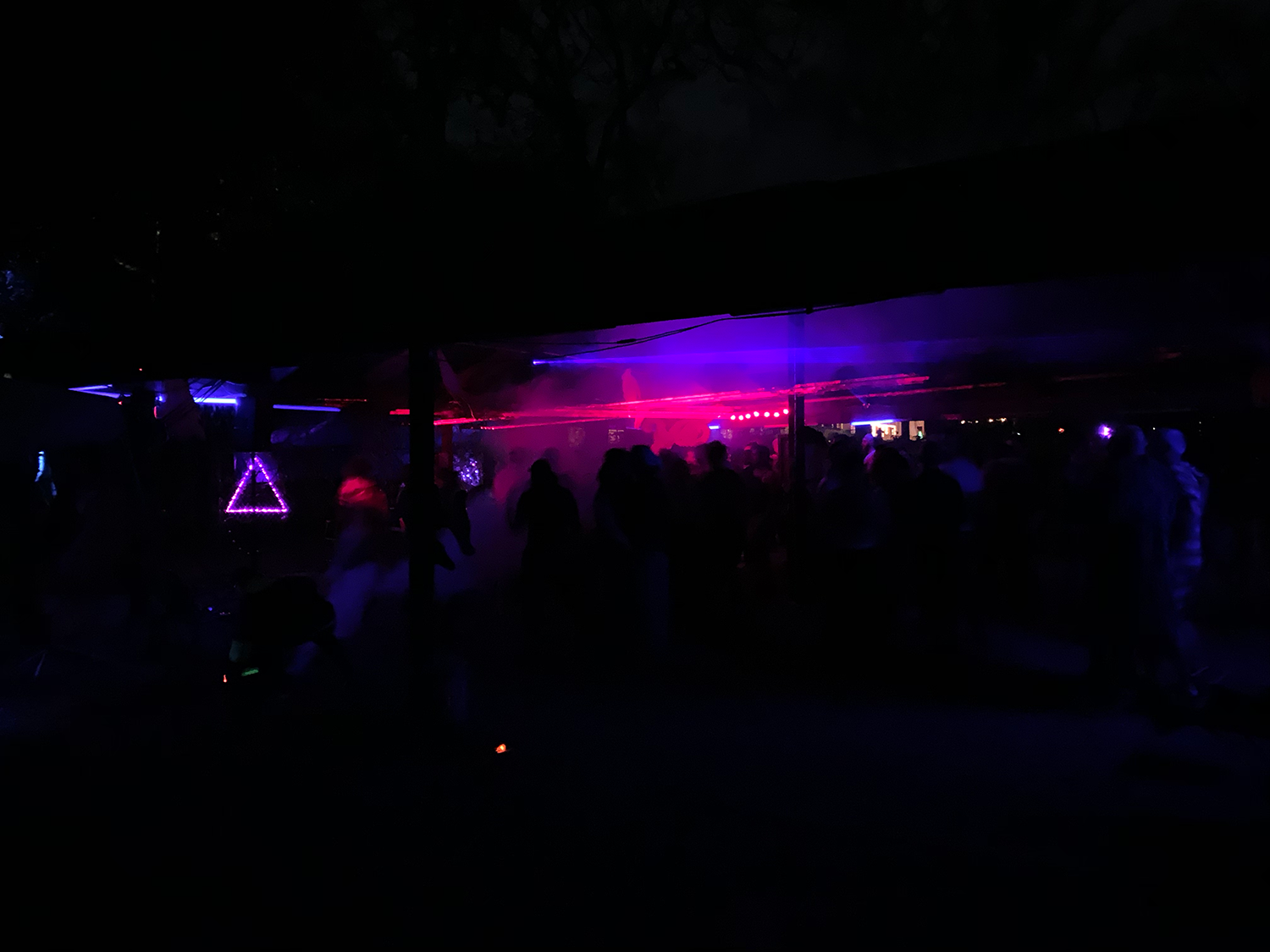 The photo I'm sharing was taken at Gays Hate Techno in 2019. It's a photo of the pool stage which my partner Jordee curated and I had the pleasure of closing out one night.
I made one of the most life-changing decisions that year by moving to San Francisco and GHT happened to be a few weeks after that. I've been visiting San Francisco for a bit now but this really helped me connect with the scene. I also was able to connect with many people who I only knew online! Being able to close out a stage like that was truly amazing and I played one of the best sets I've ever played. It's such a carefree environment and people are really ready to fully get into anything. </h2>
Can you share any tracks or mixes created by someone else that really bring you back to a place or are somehow connected to a specific time or locale?
"What Am I?" by Wild Geese is a track that always gets me.
It was a repress on the Was/Is label run by Tony Fairchild in Pittsburgh. It has such a distinct and amazing sound and I kind of think of it as an anthem from all the DJs I love. I've heard it in so many great spots like Carlos Souffront and CCL both at Honey Soundsystem as well as Hot Mass a few times. I also had the pleasure of playing it out a couple times and it always gets people going. It reminds me of home because whenever it's played all of my friends freak out and really lose it.

Sis Girl's fee for this mix was donated to SisTers PGH, a transgender centered drop-in space, resource provider, and shelter transitioning program based in Pittsburgh, PA.
Tracklist:
Abby Echiverri - Inquilinism
Piezo - A Touch Of
Posthuman - Abaskan Control
Spectra Ciera - Moonbeam
ASC - Stature
Jouem - Reflective Sun
4E - Warm Leatherette
Spring Heel Jack - Pan
Fred Berhert - New Calm
Goiz - Mid Pack
Aoki Takamasa - Noctilucent Clouds
Drǿn - Wallow
Move D - Soap Bubbles
Follow Sis Girl:
Published August 2020.
♫