028. ChadKid
August 2020 | Our month with the co-founders of MESH continues with lifetime Pittsburgh resident ChadKid. With ChadKid, Sis Girl, and newly minted resident Calin, MESH has booked a broad range of up-and-coming queer underground talent to play to an open-minded, intimate dancefloor. Individually, ChadKid has played both queer party staples like Honcho's annual campout and Gays Hate Techno, and intimate local events like In Training (Cleveland/PGH), Kosmetik (San Francisco), and Only Friends (Boston). Their mix strikes a perfect balance between dancefloor nostalgia and home-listenability, and will brush across you like a fresh summer breeze wherever you take it in.
About the mix:
For this mix I wanted to create something both uplifting and refreshing while keeping an easygoing palatable sound. Given the state of the world and the lack of nightlife in all of our lives, I have found that listening to dance music aimed more for club use has not been my vibe lately. I still wanted the mix to be danceable though, so I ended up going with a breezy but still groovy sound in the tracks I pulled. I wanted this to feel like being at an outdoor dance floor when a refreshing gust of wind hits perfectly in time with the music.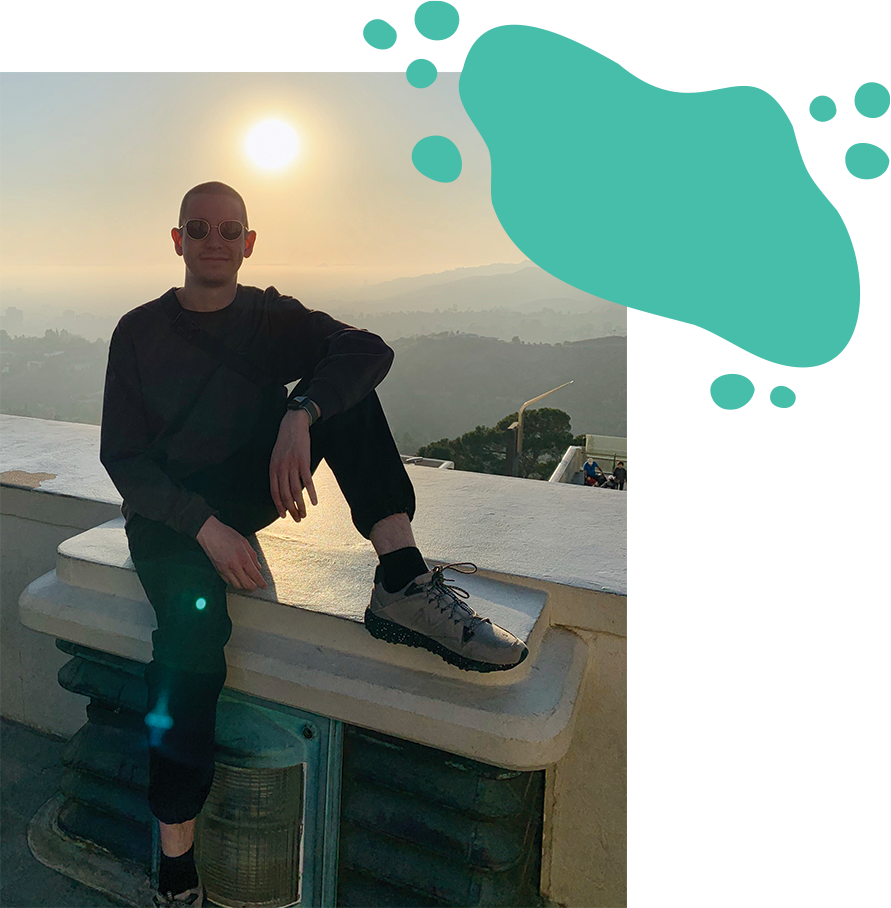 What was the first dance music experience that really stuck with you?
The first time I ever went to a rave happened by wild chance. I always liked electronic music in high school but my parents were strict about letting me stay out too late so I never got to attend any events until my junior year. I went to a friend's cabin outside of the city, so I was out of my parents' control. My friend who had the cabin had a sister and she and her friends went to raves. They randomly came up to the cabin and were going to a 18+ rave that night, so I ditched my friends to go back to the city and go to this.
I'm pretty sure the event was called 'Trancegiving' or something. As we parked downtown and started walking down a dark alleyway, my excitement grew. Going into this inconspicuous door to walk into a 2 floor underground DIY club with 3 different dance floors blew my mind. I was completely enamoured with the whole thing, cause it was something I'd wanted to do for such a long time.
To what extent is your music tied to community, and to what extent is it about individual expression? Can those things intersect?
For me they are completely tied together. As I started diving deeper into the scene here I also was finding my first queer friends at the time too. The dance music scene in in Pittsburgh is very predominantly queer. I was lucky to be able to find people that I love and now call my family, who also all share the same music interests as me. I can't imagine one without the other. Everytime I practice at home alone it makes me miss my friends and the close bond we all have with each other and this music.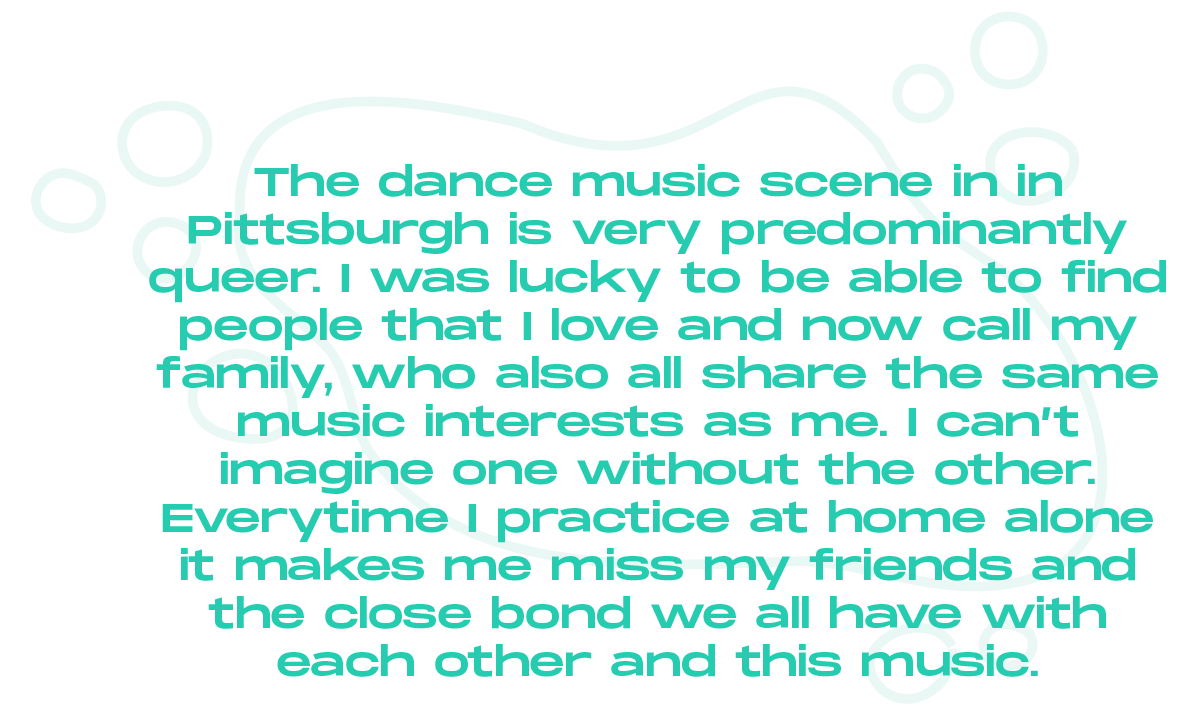 Can you tell us about something you've discovered about yourself through a dancefloor, whether in a single moment or over an extended period of time?
During Octo Octa's In Training set I had a very important realization about myself. I've been going up to In Training's parties pretty regularly at this point and always had a great time there. This night something was in the air and the whole place started popping off like I've never seen it before. My friends and I were in an altered state that night and by the time Maya hopped on the decks we were fully in it.
That set Maya played rearranged my brain and something clicked in my head where I realised in that moment that I was non-binary. Afterwards I was so excited about this realization I wouldn't shut up about it, and everyone was probably tired of hearing it by the end of the night. I will always remember exactly where I was on the dance floor in the moment when it clicked.
Share a video or photo that you recorded that takes you back to a moment, and tell us a bit about that moment.
This was taken at Gays Hate Techno last year. This pic was taken during a little hike that me and all my friends took up the side of the valley that the camp area was in. Most of us are from the midwest area and have not ever seen much of the beautiful nature California has to offer.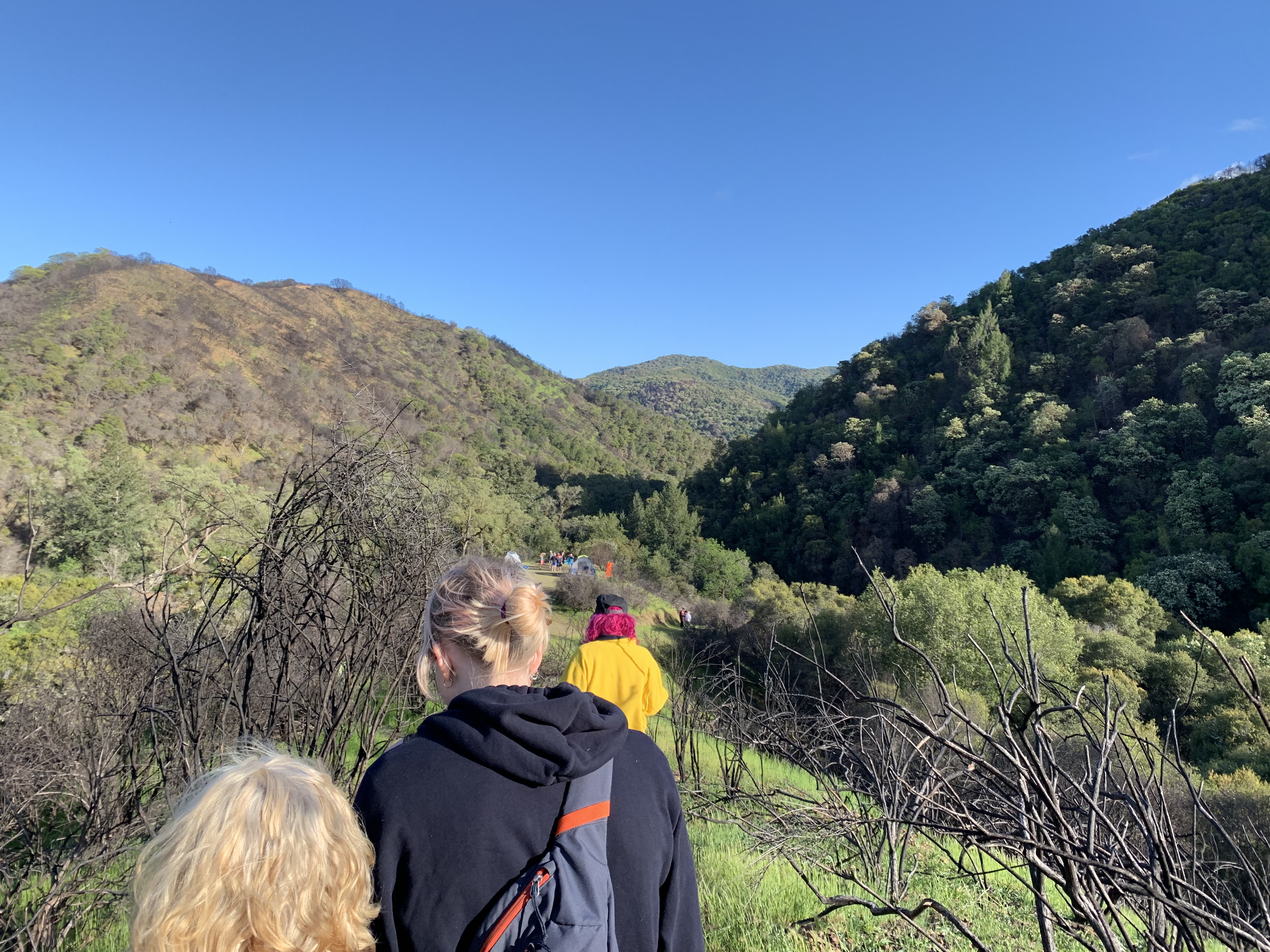 Needless to say we were all blown away by the great view that was at the top. We all sat up there and watched as the wind blew through the trees. We reflected on how lucky we are to have this great community that brings us together and empowers us to make great things. I was glad it was one of the few times I had my phone on me that weekend, because it was a great moment to capture in a photo.
Is there any other piece of media you'd like to share that made an impact on you?
I want to recommend the movie Groove. I randomly stumbled upon this great capsule of raves past a couple years ago and I find myself revisiting constantly.
While it might not be the most stunning movie in a traditional cinematic sense, I think it is one of the best fictional pieces of rave-related media. It perfectly captures the essence of a good rave, and always leaves me super excited to go attend my next party at the end. Definitely the best on-screen raver representation out there. Plus there are some fun tracks hidden in there, including one I played out in San Francisco (where the movie takes place) to bring things full circle.

ChadKid's fee for this mix was donated to SisTers PGH, a transgender centered drop-in space, resource provider, and shelter transitioning program based in Pittsburgh, PA.
Tracklist:
K-LONE - Cape Cira
Active Surplus - One Beyond
A.M.S & Dog World - Cue Connected
Sevensol & Bender - Sleepers
Brommage Dub - Hot Roti
Smooth Society - Escape from a Restless World (Pino Shamlou Remix)
Seafoam - Nightling
Nummer Music - Daybreaker
Ex-Terrestrial - Vanilight (Priori Rezone)
Eddie Richards - In the Van
Nail - Be Dub 2
Jersey Street - Disappear (Expression Dub)
New Phunk Theory - Twilight (Little Green Dub)
Kush Jones - Earth Note
Karaba - Floating Mind
The 3 Amigos - Quatro
Liquid Earth - A Little Nucleus (Liquid Earth Mix)
Follow ChadKid:
Published August 2020.
♫