032. Pareidolia
February 2021 | Pareidolia has been posted up by your favorite front left speaker for years. Despite a deep catalogue and knowledge of music and a well-loved stint of parties in San Francisco as Noctuary (alongside Kudeki), she held off on DJing herself, keeping her focus on elevating the gender-marginalized artists around her. Over the last year, she's started investing more of her energy into ambient sets with an immersive, underwater quality reminiscent of our favorite ambient rooms.
About the mix:
This was recorded on a Pioneer XDJ RR at an annual gathering of a small group of friends, where we hike approximately 10 miles and bring sound to the 5,000' summit of a mountain above Los Angeles overnight.
I had never used this controller before - I have a much simpler one at home, but it went fairly well after one practice session beforehand. The small group involved with this fully commits to pitching in to make it happen, leaving no trace (with some added extra precautions this year given the circumstances), and really being fully invested in the experience.
I had not socialized IRL with more than a couple of people since the beginning of March outside of protesting and wanted to create a gently joyful and psychedelic experience under the stars, as well as play music in a way that made sense between the friends who played before and after me. Nearly everyone in the group is a DJ, producer, or at least a self-confessed music nerd, so it's both thrilling and terrifying to play for them in such a small and deeply intentional group.
It is easily one of the most physically taxing things I've ever been involved in, but also one of the most rewarding. I say every time, "I'm not sure I can do this again" and keep coming back for a little suffering with my ambient music....seeing the endless glittering lights of the city below, near-complete silence in high desert nature, and the sun rise through a colorful layer of smog, smoke particles, and thin air makes it thoroughly worthwhile.
This photo was taken right before we headed back from the overnight camp/hike. The colors are from the tail end of the wildfires :( but it made for one of the most beautiful sunrises I'd ever seen.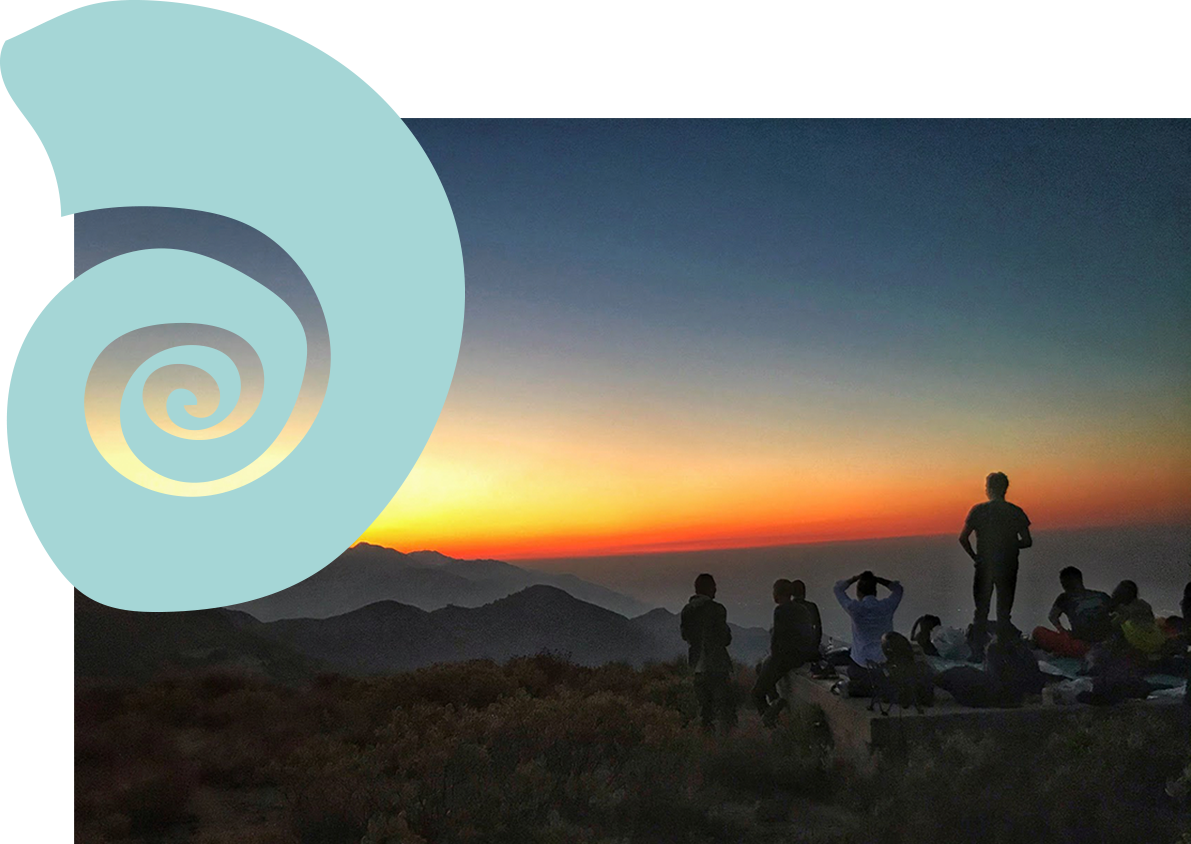 What was the first dance music experience that really stuck with you?
My most profound dancefloor experience would likely be my first time in Detroit at No Way Back. I came on the later side from a not-very-good party, and had a very scary experience with a sketchy Lyft driver who tried to take me the wrong way and wouldn't turn the car around at first - I eventually opened the door and ran at a stoplight a few blocks away once we reached Hamtramck.
I arrived to an experience that was not only completely different from what I'd been at before (deep regret at wasting even a single moment there, but alas!), but altogether different from anything else I'd ever been to either. I was immediately hooked on the music, the quality of the sound, the thoughtfulness of both the programming and the people attending - and this has mostly only improved in the years since. The diversity of the dancefloor, the lighting, the Outer Space room bringing everyone into daytime (and into Industry Brunch at that time) gives me chills to this day that I haven't been able to quite top anywhere else.
To what extent is your music tied to community, and to what extent is it about individual expression? Can those things intersect?
Community and relationships are everything. People often confuse community for "scene" - and they're not really interchangeable.
I don't have much personal music to speak of, but feel like my less visible role as a booker was to bridge the gaps between different communities, both locally and more internationally - It was really rewarding to put so many talented SF-based performers in front of more people, as well as to meet the wonderful people they brought that I otherwise wouldn't have met. My resident & partner in crime, Mo, was instrumental in sharing and supporting these priorities.
On a broader level, the last few months have very much fractured peoples' sense of community, both through not being able to gather, but also in delineating the people who simply want things to get 'back to normal' as soon as possible from those of us who know that we cannot do any such thing (both within the music community and outside of it). It's blown open the doors on who is addressing racism, capitalism, misogyny, transphobia, etc. within their music industry circles and who just wants to get back to doing deals in the green room.
On the other side of the coin, individual expression is key. One of my favorite traits in people is being original - it isn't very genuine to duplicate what someone else has already done. Resourcefully coming up with interesting ways to make something fresh and creative is something I deeply value. Something I miss the most about events right now is seeing individual shadows in the dark, and knowing instantly who it was by their dance rhythm. No two people dance the same way - it's like a fingerprint. The comforting feeling of knowing who is there, even in the dark and disorienting fog.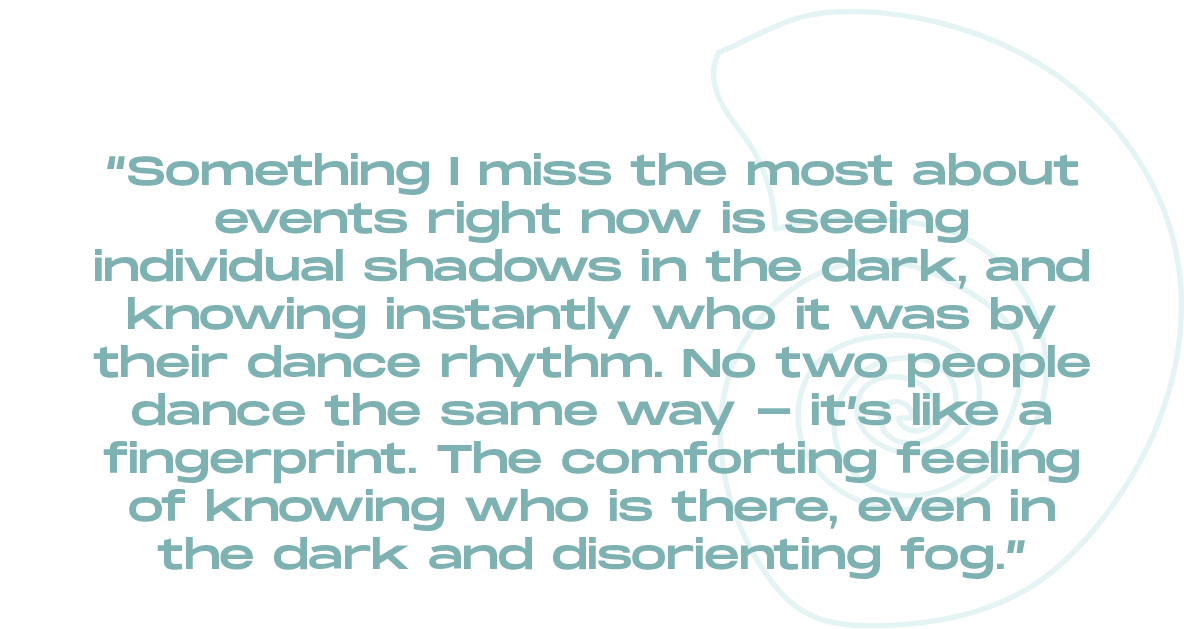 I would say in fact it's critical that the two must be united in some way, but community first (whatever that might mean to you).
Do you have any thoughts on the present struggles of DIY collectives and spaces and how these spaces can continue to exist?
DIY collectives are something close to my heart given my own collective and living in San Francisco. Unfortunately, the dystopian prioritization of capital here in the Bay Area has almost entirely pushed out artists, creatives, queer people, and people of color. It also means that there are virtually no such event spaces that are safe or reasonable. The licensed venues that are available range from deeply problematic to not having sufficient sound or equipment - and all of them participate in pushing far too much alcohol on participants and large bar minimums underpinning it all. I find alcohol diametrically opposed to what is good about raving and 'underground' events. As long as alcohol is prioritized over the safety of attendees and the quality of the event, it will continue to be a struggle. I'm not certain it'll ever be possible to get away from that in a licensed venue here.
I feel a glimmer of hope in seeing rent costs fall, and many ultra-privileged folks leaving and making room (both literally and figuratively) may allow a more critical mass of creatives to return. Despite SF being tremendously inhospitable to DIY events, we also have several collectives that were (pre-pandemic times) holding it down - TVOD, Kosmetik, Club Lonely, The Stud, Airtight, Loose Conditions, Cult Freq to name a few. Because these events already had the right intent in the first place, they may be the first to continue and thrive in post-pandemic times (saying this because I believe it but also because I want it to be true!)
To what extent is utopia possible, and does dance music help us get there?
I want to believe that someone experiencing a really good rave could help change the world - it teaches us so much about what is possible - giving, receiving, connecting to our bodies through movement and dance (returning to carnal instincts from thousands of years ago), taking care of your friends, taking care of strangers, leaving preconceived ideas of what the world wants you to be at the door, better understanding of drug use and addiction, harm reduction, individuality, togetherness, focus.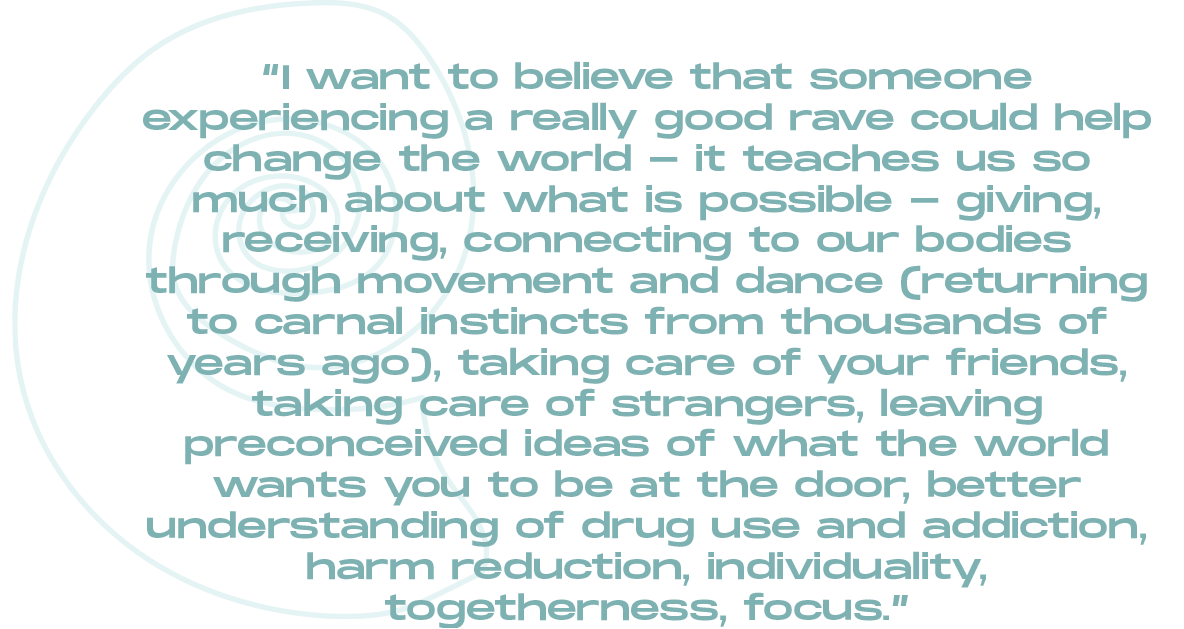 If this could be harnessed, perhaps. Unfortunately, most people treat these lessons carelessly and are more into the hedonistic side of things (though, that too has value). Until dance music recognizes that this utopia doesn't really exist unless you're a white man, there will be no utopia.
What is the story behind your alias?
Up until this point I hadn't seriously put out any mixes and had played around with a few aliases (honestly, simply because I couldn't figure out anything that quite fit that wasn't a joke).
We recently decided to shelve Noctuary as a party - and it was a joint collaboration, anyway, not just mine. I didn't want to release under my own name. It's an effort to separate my identity from my more known but not-very-related project and real life self.
I settled on Pareidolia, which is the phenomenon of perceiving stimulus in inanimate objects (like faces in clouds.) Given some previous experiences with an accidentally-offensive name, I wanted to pick something that wasn't taken, was an interesting concept, and most importantly didn't have any secondary or potentially problematic meanings. The concept itself seemed perfect for the type of music I most enjoy playing.
Can you share any tracks or mixes created by someone else that really bring you back to a place or are somehow connected to a specific time or locale?
One of my most listened to mixes of all time. Carlos Souffront is one of my favorite people and DJs - while I wasn't actually at this party (wish I had been!) it reminds me of how good this whole thing can be. It combines taste, truthfulness, and technique - and reminds me of everything I love about dance music and the freakiest records in the hands of a truly gifted DJ. I happened to see Carlos at the Stud right after having listened to this for the first time, and he was so genuinely excited to hear my enjoyment, happily offering track IDs and tremendous enthusiasm for the records he'd picked. A perfect example of a mastermind on the decks still finding joy and never gatekeeping even the rarest of records (of which there are many in this mix!)
Particularly the moment around 1hr13m (RAC's "Electro Fish" on Warp) - I actually was at this one and remember it perfectly, cruising on nothing but fumes and Club Mate at 10:15am, looking around, seeing people absolutely losing their shit, wiggling and writhing in harmony. By this point in the proceedings, everyone is completely loose and wavey, totally locked into the dancefloor's frequency. Perfectly and expertly mixed, riding the line between house, techno, electro, IDM, and whatever other outlandish records Mike Servito surely plans his record bag all year for. Maybe my raver peak.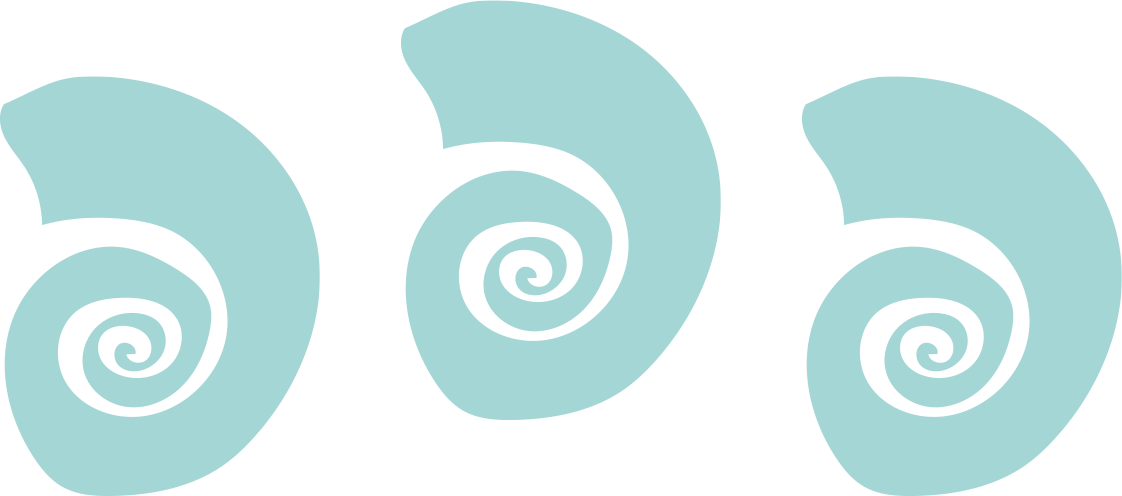 Pareidolia's fee for this mix was donated to the Rad Mission Neighbors, an organization that supports & provides grants and laundry days to houseless neighbors and sex workers in the Mission Distict in SF.
Tracklist
JF Burma - Tourmaline (Mysteries of the Deep)
Raica - Slep_Non (Further Records)
Ancestral Voices - Beltane (Self Released)
Donato Dozzy - 12h.1 (Presto?! Records)
Andrew Pekler - Frisland (Dub) (Mysteries of the Deep)
Chroma Field - Pareidolia (Self Released)
Antenes - Metra Train Chicago 1000x (Silent Season)
Dualsite - Breathless (Hollow Point One)
Claude Young - Signals from Amor (Fountain Music)
Forest Drive West - Scafell Pike (Frequency Domain)
Fred P - Distance (Drone Vox Meditation) (Private Society)
Neel - The Morning After (Roland SH-01A) (One Instrument)
Imka - Conclusion (Evidence of Yesterday)
Rroxymore - Home Is Where the Music Is (Don't Be Afraid)
Claire Morgan - Inexorably (The Zeitgeist)
Grand River - Coordinates Redirect Here (Editions Mego)
Russell E.L. Butler - Considerate Being (Self Released)
The Skull Eclipses & Laraaji - Yearn Infinite (Western Vinyl)
Jo Johnson - Weaving (Further Records)
MMYYKK - Grand Rising [Vibe] (Self Released)
Bochum Welt - La Nuit (Rephlex)
Ulla Strauss - Feeling Remembering (Experiences Ltd)
Organic Dial - Rhomb (Enisslab)
Pleq - Middle Point (Legiac Remix) (Dronarivm)
Wata Igarashi - Las Ventanas Abiertas (Enisslab)
Birds of Prey - Black Vulture (Patrick Russell Remix) (Kathexis)
Follow Pareidolia:
Published February 2021.
♫